'He is a great player. He continues to improve and get better'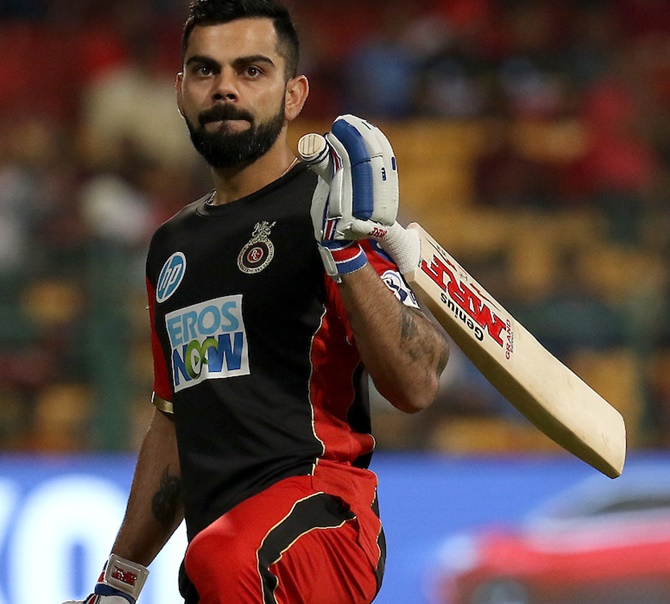 Virat Kohli's insatiable hunger for improvement is a certain characteristic of a great player, says Gary Kirsten, who had coached the Indian captain during his successful three-year stint with the national team.
Kirsten, who coached India from 2008-11, is once again working with Kohli as assistant coach of the Royal Challengers Bangalore.
"He is a great player. He continues to improve and get better. I enjoy working with him because he continually wants to learn about the game and all the great players do that," Kirsten said.
The former Proteas opener also backed Kohli's decision of playing county cricket to get used to the conditions ahead of the England tour.
"It is good for him to prepare (for the England tour), for any player preparation is good," he said.
Former Australia captain Michael Clarke, though, had expressed surprise at Kohli's decision and felt that the Indian captain should have chosen the historic Test against visiting Afghans.
Kirsten is expecting that the India-England series will be fought keenly.
"It will be a competitive series. I am excited for it," he said.
Talking about pace bowling the RCB assistant coach said he is thrilled to witness the talent in the IPL and feels the league plays a huge role in the development of Indian cricket.
"I am really excited by what I see in the IPL, some good young players are there. The IPL helps tremendously in shaping the cricket in India."
Speaking on the relevance of Test cricket in the age of the slam-bang Twenty-20 format, Kirsten said even though the younger generation enjoys the shortest format, Test cricket will always be there because it is the purest form of the game.
Kirsten recently launched his academy in Pune and is in capital for scouting talent. He has partnered with Grassroots Sports Academy to offer state-of-the-art coaching to aspiring youngsters along with providing coaching education.
"India has such immense cricketing talent. From every small town to a big city, there are gifted youngsters waiting to be tapped. I have always had a warm, home-like connection with India and feel deeply involved in their cricketing passions."
"We are trying to add value to young cricketers' lives and being involved in cricket in India at the junior level at the grassroots. The aim is to let the young kids develop holistically and get the opportunities to sharpen their skills," Kirsten said.
Six players each from six cities -- Pune, Bangalore, Jaipur, Chennai, Delhi and Mumbai -- will be invited to Pune for a weekend training programme in July. Following this, three players out of 36 will be given a scholarship for a two-month residential High-Performance Camp worth Rs 2 lakh.
Apart from scouting young talent, the academy will also have coach education programs.
"Gary Kirsten Cricket is committed to coaching budding players and even coaches to better their game. And with the kind of talent that India consistently produces, we want to be there to help them attain greater heights," Kirsten said.