Off the field the Board of Control for Cricket in India looks set for a complete overhaul with Supreme Court's stinging observations tightening the noose around the mandarins of the richest sports body.
IMAGE: Virat Kohli acknowledges the crowd after his dismissal during the fourth Test against England in Mumbai. Photograph: BCCI
It was the year of Virat Kohli, who transformed Team India into a champion outfit with generous helping from his trusted lieutenant Ravichandran Ashwin even as Indian cricket faced a massive credibility crisis with its freedom curbed beyond 22 yards.

Captain Kohli seemed to walk the talk as he catapulted the Test team to the top of the world rankings with his brilliant batting and inspirational leadership with India winning back to back series against West Indies, New Zealand and England.

Kohli also had his lethal weapon Ashwin, whose super human efforts exceeded all expectations with one match-winning effort after another, with good support from Ravindra Jadeja, who had another good year in home conditions.

While the men in white flannels were providing their die-hard fans with immense joy, the administration was caught in a tangle as the Board of Control for Cricket in India faced a complete overhaul following the recommendations by the Justice Rajendra Mal Lodha committee on the directive of the Supreme Court.

The administrators, for most part, were busy firefighting but the men who mattered -- the cricketers -- made winning a habit with nine triumphs out of the 12 Test matches played this year.

A 2-0 win in the West Indies followed by 3-0 rout of New Zealand and 4-0 drubbing of England showed that Kohli's boys never took their foot off the pedal.

The skipper's 1215 runs with a hat-trick of double hundreds in three back-to-back series set a benchmark and spin sensation Ashwin only took it a notch higher with 72 wickets in the season along with 612 runs.

England were expected to provide India with a stiff challenge but they looked out of sorts with below-par spinners in their ranks, Australia are going through a transformation having lost to South Africa, who in turn had looked clueless against India, only a year back.

What was phenomenal about Kohli's performance was the effortless ease with which he carried the burden of leading the Test team.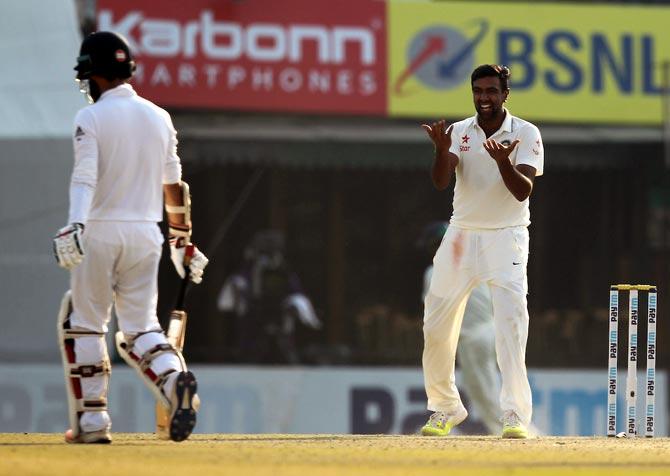 IMAGE: Ravichandran Ashwin, right, celebrates after taking the wicket of Moeen Ali during the third Test in Mohali. Photograph: BCCI
Ashwin's metamorphosis from a defensive bowler to an attacker happened under Kohli. The eight five-wicket hauls and the three 10-wicket hauls in this year's Test matches placed him at the cusp of being quickest bowler to 250 Test wickets.

For Kohli the batsman, the year started with a couple of memorable T20 knocks during World T20 -- a match-winning half-century against Pakistan on a wicked Eden Gardens track followed by an epic knock against Australia at Mohali -- something which will be remembered for a long time to come.

The contours of emotion in his facial expression after India's energy-sapping defeat against the West Indies in the World T20 semi-final in Mumbai will also be etched in the Indian fans' memory.

Elsewhere, the calls to replace Mahendra Singh Dhoni as the ODI and T20 captain got louder and even a biopic, which at best was a feel-good Bollywood potboiler, has not been able to lower the decibels.

And Kohli's style of captaincy, his involvement and ability to engage has only made it evident that it will be a matter of time before the Delhi batsman takes over the mantle across all formats.

One witnessed a new dimension to Kohli' batting in Test matches as he showed the art of saving a Test match with his defensive batting against England at Rajkot. The innings of 49 not out will be as significant as his double hundreds.

While Karun Nair will always be feted for his triple hundred -- only the second Indian after Virender Sehwag to do so in Tests, Kohli's 235 on a sporting track at Wankhede was a delight for the purists of the game.

His fitness standard has become a talking point in international cricket and the new crop of players are ready to follow his mantra of fitness.

The manner in which he tackled both spin and pace and also the way he handled Jimmy Anderson's critical comments about his performance with all that dignity and poise was an example of how he has worked on himself.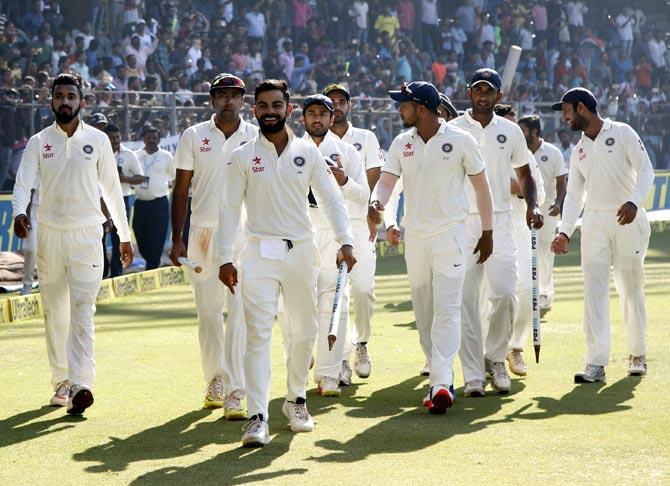 IMAGE: Team India celebrate winning the fourth Test against England in Mumbai. Photographs: BCCI
The structure of Indian cricket's supply system is also firmly in place as players like Karun Nayar, Jayant Yadav, K L Rahul have all shown that they are battle ready for international cricket.

Three potent fast bowlers in outswing bowler Umesh Yadav, exponent of reverse swing Mohammed Shami and hit-the-deck-man Ishant Sharma augurs well.

Jadeja has proved to be the perfect foil for Ashwin with his all-round abilities and the bits and pieces cricketers like Kedar Jadhav and Hardik Pandya are ready to fit into any jigsaw puzzle.

In fact, it would be fair to say that Indian cricket's on-field future looks sorted atleast.

However, off the field BCCI looked set for a complete overhaul with Supreme Court's stinging observations tightening the noose around the mandarins of the richest sports body.

The pandora's box that opened way back in 2013 after the spot-fixing scandal has come to haunt BCCI big time.

In between, Jagmohan Dalmiya's death last year followed by Shashank Manohar deciding to leave the home board for the safer confines of independent chairmanship of ICC left current incumbent Anurag Thakur with a crown of thorns.

It is a matter of conjecture whether some of the reforms like One State-One Vote, Age Cap of 70 years, cooling off period of three years after each term are easily implementable or not but BCCI is in a tight corner.

Around the world, 'Pink ball' Test slowly gained popularity while South Africa's series win in Australia and Pakistan's praiseworthy performance in England were worth noting.

Faf du Plessis' ball tampering controversy and a classic hundred at the Adelaide were the highlights of South Africa's win against Australia which led to wholesale changes.

England's Jonny Bairstow, Joe Root, Ben Stokes, Pakistan's Azhar Ali, Yasir Shah along with the ever-dependable Misbah-ul-Haq were some of the star performers in international cricket throughout the year.

The private leagues and their impact got bigger as Test cricket in West Indies fought an existential crisis with top players still at loggerheads with country's cricket board.

An eventful and even more colourful 2017 awaits as far as international cricket is concerned.