'We always enjoy playing against Pakistan, and if the series comes through, nothing like it. It builds more interest in spectators and lovers of the game'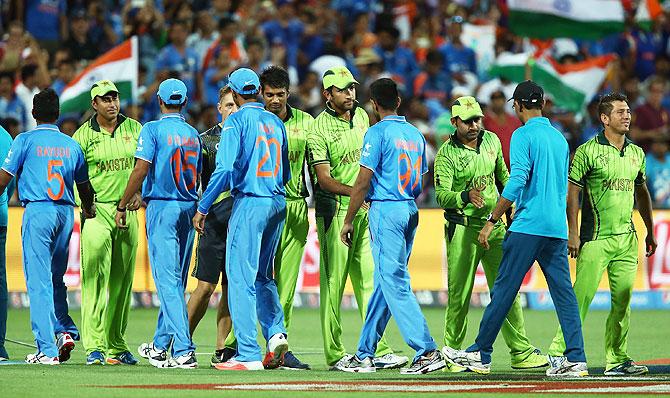 IMAGE: Players from both teams shake hands after the 2015 ICC Cricket World Cup match between India and Pakistan at Adelaide Oval on February 15, 2015. Photograph: Morne de Klerk/Getty Images
There is nothing wrong in playing cricket with Pakistan, feels former India wicketkeeper-batsman Syed Kirmani but he concedes that the Indian board cannot bypass the government and has to respect whatever it decides depending on the political scenario between the two countries.
India and Pakistan were supposed to play a bilateral series this month but the planned rubber did not go ahead after the Indian government withheld permission for the same.
Kirmani said despite being an autonomous body, the Board of Control for Cricket in India should respect the government's stand.
"According to me, there is nothing is wrong playing against Pakistan, but looking into the political scenario, the ICC and BCCI wouldn't like to go against the government as well. They are autonomous bodies but we have got to respect what the government says," he told PTI in an exclusive interview in Bengaluru.
BCCI is awaiting the Indian government's permission for playing against the arch-rivals. The BCCI and the PCB had signed an MoU last year under which the two countries agreed to play a total of six bilateral series between 2015 and 2023.
India has not played a full bilateral Test series with Pakistan since the terror attacks in Mumbai in 2008.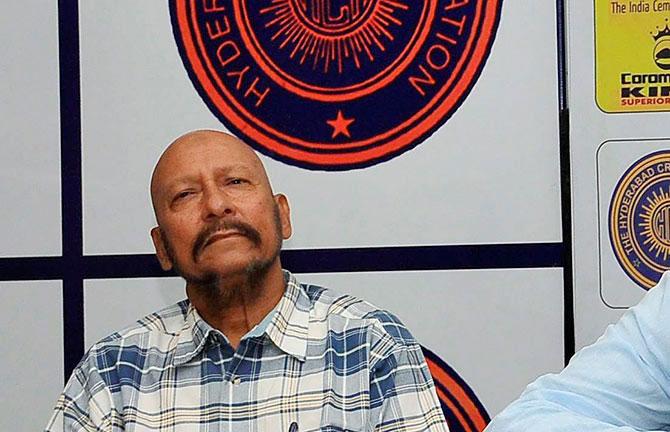 IMAGE: Veteran Indian cricketer Syed Kirmani at a media conference in Hyderabad. Photograph: PTI
Nevertheless, Kirmani said he is looking forward to improved political relationship between India and Pakistan.
"I am looking forward, that the relationships at the political front eases off between the two neighbours. I don't understand why there must be conflict between the two neighbours? 'Love thy neighbours', so why do you want to fight against one another? What for? What do you want?," he questioned.
If the series comes through, Kirmani said it would be sold-out affair because India-Pakistan clashes are always enjoyed by the fans.
"We always enjoy playing against Pakistan, and if the series comes through, nothing like it. It builds more interest in spectators and lovers of the game," said Kirmani, who has been nominated for this year's Col C K Nayudu Lifetime Achievement Award.
"Leaving aside politics, there is a great camaraderie among the players. We enquire about our families and business and other things. We also wish each other, that is how sportsmen are -- there is nothing between players. We have a great relationship," he said.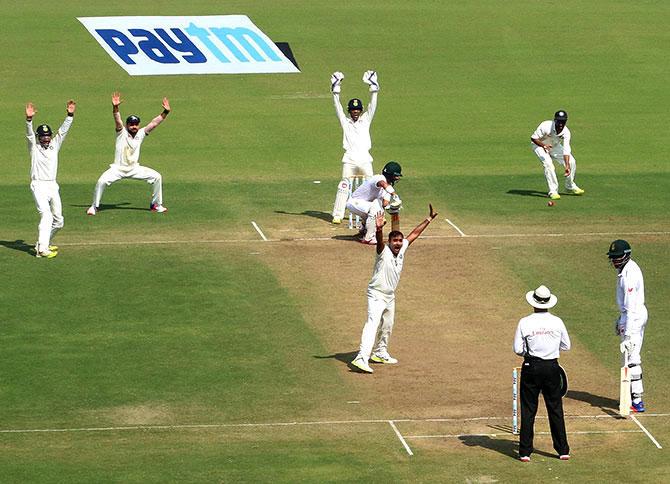 IMAGE: India leg-spinner Amit Mishra appeals for leg before wicket during Day Two of the third Test against South Africa in Nagpur. Photograph: BCCI
On to other issues, Kirmani gave his thumbs up for Day-Night Test matches by saying that it makes good business sense.
"When you can play day-night one-day internationals, why not day-night Test matches? See how it goes about. People will have more time to watch the matches after they close their businesses and offices, so it makes a good business sense as well," he said.
On the Nagpur pitch controversy wherein match referee
Jeff Crowe, in his report submitted to the ICC, had rated the surface as poor, Kirmani said he wouldn't accept the Kiwi's conclusions because nobody cribs about Australian or English pitches.
"What Jeff Crowe has said I will not accept that because what happened in England? Australia were bundled out for 60 runs. What would you say for that? On what conditions and what pitches in England? Stuart Broad took eight wickets for 15 runs, I think it is a marvellous performance. Why not talk about it. Why talk about poor tracks ... These things happen. It is part and parcel of the game," he said.
Crowe's report had rated Nagpur pitch as poor in reply to the ICC. The Nagpur Test between India and South Africa had finished inside three days with the highest score being a first innings 40 made by opener Murali Vijay.