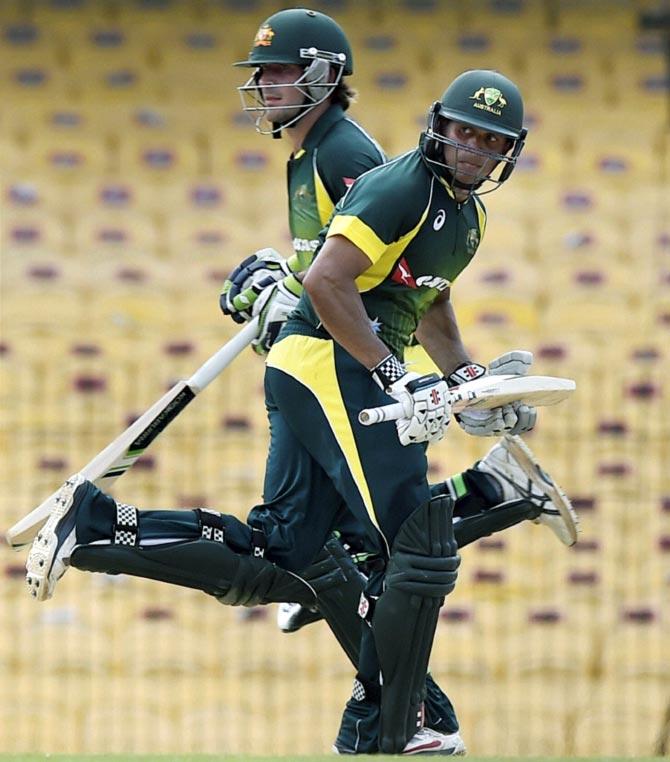 Joe Burns (left) and Usman Khawaja run between the wickets. Photograph: PTI
Captain Usman Khawaja and Joe Burns, his opening partner, smashed scintillating centuries as Australia 'A' thrashed a hapless India 'A' by 119 runs in the second tri-series match in Chennai on Friday.
The pair continued their good run of form, scoring 100 and 154 respectively in a 239-run opening partnership off 35.5 overs, as the Australians posted a mammoth 334 for 4 after electing to bat at the M A Chidambaram Stadium.
The Indians produced a spineless show in all departments of the game. Their bowlers were first steamrolled by Khawaja and Burns and then the batsmen fell far short of the stiff target of 335 as they were bundled out for just 215 in 42.3 overs.
The Australians maintained their wicket-to-wicket bowling and the impatient Indian batsmen paid the price for chasing short-pitched deliveries.
The wicket appeared to offer good bounce throughout the day but most of Indians were out due to poor shot-selection.
Earlier, the bowling frailties of the home side were exposed as Khawaja and Burns scored runs almost at will, denying the Indians success till the 36th over.
When Khawaja, who was also in great touch in the 'Test' series against India 'A', was out for 100 after hitting 10 fours and three sixes from 104 balls, the visiting side were well on course for a huge total.
Leg-spinner Karn Sharma bore the brunt of the assault from the Australia A openers as he bled 58 runs from his five overs before being taken off.
Off-spinner Parveez Rasool and pacer Dhawal Kulkarni also came in for punishment as they conceded 57 and 70 runs from their seven and 10 overs respectively.
Kulkarni got one scalp while Rasool went wicketless.
Sandeep Sharma, Axar Patel and Karun Nair also got a wicket each.
Scorecard
Australia 'A'
Usman Khawaja c Manish Pandey b Karun Nair 100
Joe Burns c Sandeep Sharma b Dhawal Kulkarni 154
Travis Head c Sanju Samson b Sandeep Sharma 0
Chris Lynn st Sanju Samson b Axar Patel 16
Callum Ferguson Not Out 18
Matthew Wade Not out 34
Extras: (B-6, W-6) 12
Total: (for 4 wkts, in 50 overs) 334
Fall of wickets: 1-239, 2-239, 3-276, 4-279
Bowling: Dhawal Kulkarni 10-1-70-1, Sandeep Sharma 9-1-42-1, Axar Patel 10-1-55-1, Parvez Rasool 7-0-57-0, Karn Sharma 5-0-58-0, Manish Pandey 1-0-6-0, Karun Nair 8-1-40-1.
India 'A'
Mayank Agarwal c Chris Lynn b James Pattinson 10
Unmukt Chand b Adam Zampa 52
Manish Pandey c Usman Khawaja b Sean Abbott 11
Karun Nair c Chris Lynn b Sandhu 6
Khedar Jhadav c sub P Handscomb b Adam Zampa 50
Sanju Samson c Matthew Wade b Sandhu 11
Axar Patel c Burns b Gurinder Sandhu 16
Parvez Rasool st Matthew Wade b Adam Zampa 10
Karn Sharma c Gurinjder Shandu b Adam Zampa 20
Dhawal Kulkarni c James Pattinson 19
Sandeep Sharma not out 3
Extras: (W-5, LB-2) 7
Total: (all out, in 42.3 overs) 215
Fall of wickets: 1-24, 2-52, 3-67, 4-90, 5-156, 6-156, 7-168, 8-183, 9-202.
Bowling: James Pattinson 7-0-50-1, Nathan Coulter Nile 9-1-41-0, Gurinder Sandhu 8.3-1-28-4, Sean Abbott 8-0-45-1 Adam Zampa 10-0-49-4.