Chahal and Yadav have bamboozled the South African batting line up with their wrist spin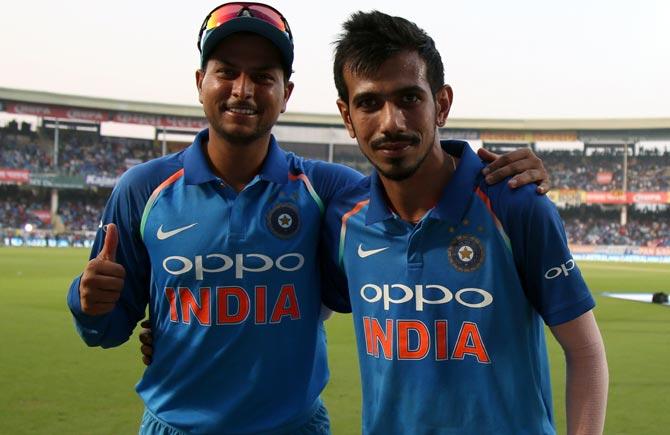 IMAGE: Yuzvendra Chahal, right, celebrates with Kuldeep Yadav. Photograph: BCCI.
Ravichandran Ashwin feels 'adaptability' has been the key to success for spinners Yuzvendra Chahal and Kuldeep Yadav in the first two ODIs in South Africa.
Chahal and Yadav have bamboozled the South African batting line up with their wrist spin in the first two ODIs in Durban and Centurion to help India take a 2-0 lead in the six-match series.
"I think there is a bit of novelty factor there. It is not about wrist finger or finger spin, it is about the ability to adapt," said Ashwin when asked about the success of Chahal-Yadav duo in South Africa.
"When T20 first started people thought there was no place for spinners. Then, finger spinners dominated literally for 10 years and then wrist spinners started doing well, which is good. It is more about adaptability," he said.
Ashwin is a regular in India's Test squad but has lost out his place in the limited-overs side since the ICC Champions Trophy in England last year.
But Ashwin said he was not losing sleep over his ODI place and instead was focusing on strengthening his armoury.
"As I told you I can only do my part. I don't think I am at that phase of my career that I am going to fret much and look forward to something," he told reporters on the sidelines of the Vijay Hazare Trophy Group 'C' match between Tamil Nadu and Gujarat in Chennai.
"Genuinely speaking, if I am good enough I will play and I have always believed I have been very good enough to play as a bowler in any team. That is my self-confidence. But I will try to strengthen my ammunition."
The lanky Tamil Nadu cricketer, who has been trying his hand at leg-spin in recent times in local matches, said it was a part of his plan going into the upcoming Indian Premier League and future.
"I am not looking at it as evolution or anything. I have been practising that for some time. This is part of my plan going into the IPL and all that."
"I am trying to build my armoury. At the top of my run- up, I must have more up my sleeve," Ashwin, who took two wickets in today's game against Gujarat, said.
He also said he was try new things out in matches and moreso in pressure situations.
"I am getting good game time. Doing it under pressure is more important," the tweaker said.
"To be honest my career has been such that people have always said I tried a lot. And when I didn't try a lot I lost my place. It is a kind of give and take, the game's demands are such."
The 31-year-old cricketer said he was confident of turning things around with regard to his perceived lack of success in overseas conditions.
"Most of the talk has been pretty much overrated. Yes, I have failed for a game here and there. It has to be taken in perspective. I am sure people do fail on occasions."
"I have had opportunities to get big hauls, and it has not turned around. But I am sure it will turn around," he said.
Ashwin, who played for Worcestershire last year, said he would again ply his trade in the county circuit after the IPL.
"In all likelihood I will be going back for a few games. The problem is after the IPL, the number of games between June and July is very less," he said.
"We start on August 1. So there will be about two-three games or four at max. But that will be good practice. I am still talking. If at all I am going, I will be going back to Worcester," he added.