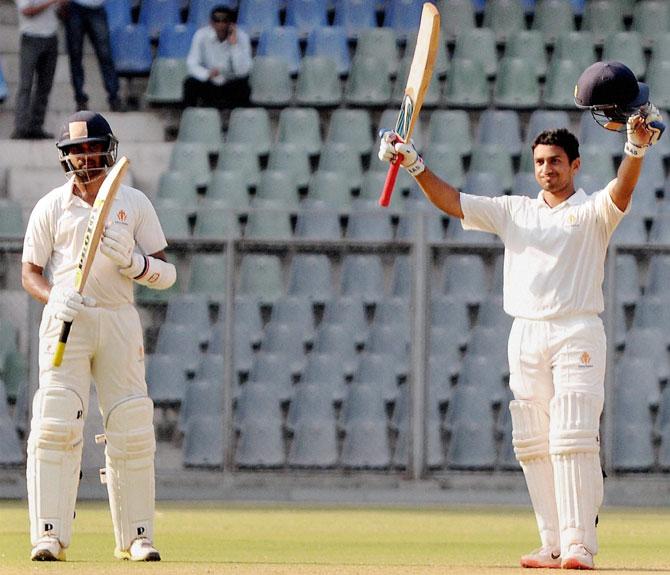 Vinay Kumar (left) applauds after Karun Nair completes a triple hundred during their partnership in the Ranji Trophy final against Tamil Nadu at the Wankhede stadium in Mumbai on Tuesday. Photograph: PTI
Karnataka's record-breaking triple centurion Karun Nair says he just applied himself and played to the merit of the ball during his unbeaten 310 against Tamil Nadu in the Ranji Trophy final. Harish Kotian reports.

Karnataka are the new invincibles of Indian domestic cricket!
The defending Ranji Trophy champions are on a 27-match winning streak, having last tasted defeat in December 2012, when they were beaten by Orissa. Which means it's nearly two-and-a-half years since they were last beaten.
That unbeaten run looks set to continue following their dominating performance with the bat in the ongoing Ranji Trophy final against Tamil Nadu in Mumbai.
At stumps on Day 3 at the Wankhede stadium, Karnataka were sitting pretty on 618 for 7, in reply to Tamil Nadu's paltry first innings of 134.
Spearheading their charge was Karun Nair. The 23-year-old was unbeaten on 310 at the end of Day 3, having spent around 14 hours at the wicket over two days. His 533-ball first innings essay included 45 fours and a six.
"I just applied myself and played to the merit of the ball. I just tried to play as long as possible and score as many runs as possible," he said, after his maiden triple century.

"This was the first time I've batted so long, so I was pretty happy," he added.

Karun and K L Rahul, who continued his good run with a sparkling innings of 188, put on a mammoth six-wicket stand of 386 runs. This after Rahul had retired hurt early in his innings when on 1 and returned to bat on Day 2 after Karnataka were in a spot of bother at 84 for five.

Karnataka have a massive lead of 484 runs with two full days' play left, but the champions want to continue batting into Day 4 and swell their total.

"We'll bat as much as we can, till we get out," declared Karun at the end of Tuesday's proceedings.
During his marathon innings, he broke the record for the highest score in a Ranji Trophy final by a Karnataka batsman, held by India batting great Gundappa Viswanath who hit 247 against Uttar Pradesh in the 1977-78 title decider.
Viswanath hailed Nair's effort.
"Karun's effort is commendable; scoring 300-plus runs in a Ranji Trophy final is amazing. His concentration was spot on," he said.
Before this knock Karun had gone 11 innings without a half-century, but he answered his critics in grand style.
"Karun richly deserves the triple hundred. His temperament was brilliant and selection of shots commendable. He never took any risks. I would say it was batting of the highest class.
"At the start of the match he was short of runs, but he chose the right platform to beautifully showcase his craftsmanship after a well-made century on the previous day," added Viswanath.
Asked if he had ever interacted with Viswanath, Karun replied: "It's a special feeling being alongside GRV Sir. I'll just keep going as far as possible.
"I haven't interacted much with him, but I remember he had spoken to me and said 'whenever you get an opportunity, make it big and make it count'."
Karun also became the second Karnataka batsman to score a triple century in the Ranji Trophy. Team mate KL Rahul was the first to achieve the landmark when he slammed 336 against Uttar Pradesh in Bangalore in the group stage in January.

Karun, whose previous highest score in the Ranji Trophy was 151, revealed that he was unfazed when into the 290s. He reverse-swept Tamil Nadu off-spinner Malolan Rangarajan for a four to get to 300.
"I didn't have any nerves. I knew that if I play for four or five overs I would get to the triple."

In Karun's sights now is the record for the highest individual score in a Ranji Trophy final, which belongs to Baroda's Gul Mohammad, who stroked 319 versus Holkar in 1946-47.

The all-time record for the highest individual innings in the history of the Ranji Trophy is 443 not out by Maharashtra's Bhausaheb Nimbalkar against Kathiawar at Poona (Pune) in 1948-49.

Interestingly, that four-day match, played at the Poona Club Ground in December 1948, was forfeited by Kathiawar at lunch on Day 3 after Maharashtra declined to declare their first innings and opted to bat despite amassing a huge 826 for four in 180 overs at that stage in reply to Kathiawar's first innings total of 238 all out.

Karun credited the Indian Premier League for his all-round development in the game.
"It does help in developing confidence, because it's a different format. Confidence-wise, it really helps because you are playing against international bowlers. You know for yourself that you can play at that level also, which improves your confidence," he added.
Image: Karun Nair and K L Rahul during their partnership in the Ranji Trophy final against Tamil Nadu at the Wanklhede stadium
Photograph: PTI