Former India captain and fast bowling legend Kapil Dev showered rich praise on young pacer Ishant Sharma after his heroics on the Australian tour.
"Ishant is fabulous. I am happy that we have a bowler like Ishant who can give the teams [like Australia] a taste of their own medicine and it feels good. I still remember that in our time, in the 1970s, when a spinner used to bowl the second or the third over, but now we have started believing in our fast bowlers that they can win matches for us. It is a big accomplishment as far as Indian cricket is concerned," Kapil said in Mumbai on Wednesday, at an event to announce a new title sponsor for the Indian Cricket League.
The Indian Cricket League named Edelweiss Capital Limited as the title sponsor for its upcoming tournament. The tournament will be called 'Edelweiss 20s Challenge'. The announcement came along with the unveiling of tournament logo.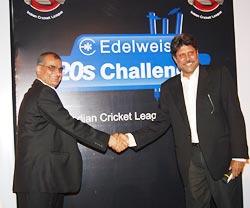 The Twenty20 tournament will be played from March 9 to April 7 at three locations -- Hyderabad, Chandigarh (Panchkula) and Gurgaon. Two new teams. Ahmedabad Rockets and Lahore Badshahs have been added to the existing six teams, to make the tournament more comprehensive and competitive.
With international cricketers of high stature being added to the league, the quality of cricket is expected to be on par with international standards.
"I want to have more teams in the Indian Cricket League so that more young players get a chance to showcase their talent and ability. I believe that those players who are talented and have got the potential should get the chance to represent their country. However, the Board says that those players [with the ICL] will not be picked for India. But I am quite sure that once the young players are ready to play for their country nobody will stop them because we are doing this for the benefit of our country," Kapil said.
Ishant finished as the top wicket-taker for India in the tri-series with a haul of 14 wickets in nine matches at an impressive average of 20.35. He was equally good in the four-Test series, in which he took six wickets in three matches and had most of the Australian batsmen in trouble with his steep bounce and movement.
Kapil advised Ishant to pay attention to fitness, which, he said, will help him gradually gain speed.
"I am very happy to see someone bowling so fast. [Javagal] Srinath used to bowl so fast in the high 140s. And Ishant is like a cherry on the cake. He is young and very talented," Kapil said.
He also seemed pleased with Mahendra Singh Dhoni's captaincy in the ODI tri-series and believes he has a great future ahead of him.
"He is a good leader. He is very patient with his boys and believes in them. I think even the team believes in their captain and that is why they are ready to give their best when playing under him," he said.
The former all-rounder said every player is criticised when he is out of form and an experienced player like Sachin Tendulkar should take it in the right spirit.
"No one plays to answer someone. Sachin played well not to shut up his critics, but according to the high standards he has set over the years. He was criticised because he didn't score enough in the 15 final matches. He is such a big player that we expect him to do well, so that is why he was criticised. And when he scores runs we will definitely praise him because we expect him to do well and win finals for us. If he plays like he did in the two finals, then who will criticise him?" he asked.
Kapil, who was also former coach of the Indian team, slammed the BCCI for pinning too much hopes on a foreign coach.
"I never believed in having a foreign coach for the Indian team. Our three coaches -- Lalchand Rajput, Robin Singh and Venkatesh Prasad -- have done a good job as everyone has seen. We don't need Greg Chappell, John Wright or Gary Kirsten, because we have three good coaches with us already.
"I want to know why the BCCI has not praised them inspite of them working so hard for the team. They should feel ashamed, because if it had been a foreign coach in their place we would have been singing praises for them like we are doing for Dav Whatmore [for winning the Under-19 World Cup]," he said.
Image: Rashesh Shah, chairman, Edelweiss Group and Kapil Dev, chairman, Executive Board, ICL during the press conference announcing of title sponsor for ICL's upcoming tournament called - "Edelweiss 20s Challenge"