'We need to decide if we want to use technology properly or not use it at all.'
'I was pleased to discover that I still had the competitive edge in me.'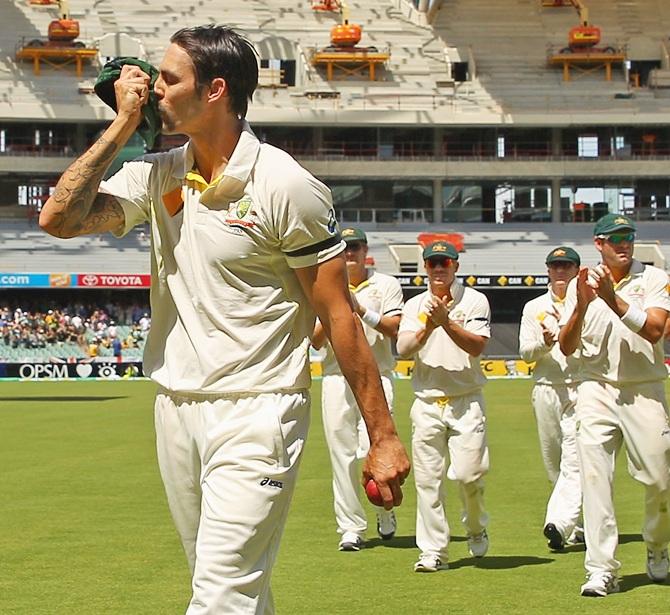 Image: Former Australian pacer Mitchell Johnson after playing his last Test match in November, 2015. Photograph: Scott Barbour/Getty Images
Former Australia fast bowler Mitchell Johnson has entered into the Decision Review System debate, saying that he'd be happy with the controversial review system to be scrapped altogether.
Johnson, who retired last year with 590 wickets in international cricket, echoed the Board of Control for Cricket in India (BCCI) opinion on the issue, saying decisions made by on-field umpires should stand until the technology improves and becomes accurate.
"In my mind, we need to decide if we want to use technology properly or not use it at all," he wrote in a column for News Corp.
"To be honest, I'd be happy if they left everything to the on-field umpires.
"I'm happy to have no DRS – cricket worked pretty well without it for over 100 years. I tend to agree with India's perspective on the DRS debate – it's either got to be spot on, or not used at all.
"If we can make sure that technology is used to get the right decision every time, then that's great. But until then, I'm not so sure."
India has mainly opposed the use of DRS system in international cricket and the BCCI has shown no signs of changing their stance in recent years.
Johnson was also critical of the incorrect no-ball call that went Adam Voges' way in the first Test against New Zealand.
Kiwi quick Doug Bracewell bowled the Australia batsman when he was on seven late on day one of the Test but umpire Richard Illingworth deemed Bracewell to have overstepped, a judgment that was proved incorrect by television replays.
With Voges going on to score a match-defining double-century, Johnson said common sense should have prevailed.
"It worked out pretty well for 'Vogesy' and I'm really happy for him but as a bowler, I can tell you it's very annoying when I see that stuff happen," he wrote.
"Bowlers are checked for a no-ball almost every time they take a wicket, so it's a bit strange that it can't work the other way. Surely the third umpire could intervene?"
While Johnson has retired from international cricket, he has hinted in recent months that a stint in next year's KFC Big Bash League is on his radar.
But for the moment, the fiery left-armer is looking to rediscover that ruthless streak that delivered him nearly 600 international wickets, as he prepares for the Indian Premier League where he holds a $1.34 million contract with Kings XI Punjab.
"Just this week, I shook off the cobwebs by having a bowl in the nets and I was pleased to discover that I still had the competitive edge in me," Johnson wrote.
"I'll get into more bowling over the coming weeks but seeing as I haven't played any cricket for a while, I'm really just testing the waters at the moment.
"In Twenty20 you only need to bowl four overs per match, so I figure as long as I'm fit and strong, then the bowling side of things will be fine."