India's bowling coach Joe Dawes has affirmed that he was not sacked by the BCCI instead they parted ways "amicably" even as he was very much interested in working with the team at the upcoming World Cup.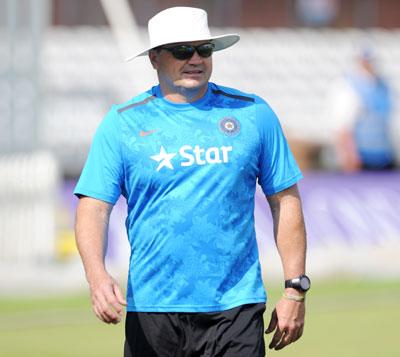 Australian media had on Monday reported that the former paceman was sacked by the Indian Board but Dawes said he turned down the offer to work at NCA.
Dawes and fielding coach Trevor Penney's were asked by the BCCI to go on a break after India's debacle in the away Test series against England in August.
"It was absolutely amicable. We were involved in a process over the past two months that we had been working through," Dawes told ESPNcricinfo. Dawes chose not to speak on the BCCI decision to rest him during the England tour.
"The actual process and what went on, I don't really want to talk about it. It is just not worth talking about it. We parted ways really amicably and I don't want to risk in any shape or form," he said. Dawes said BCCI had given them the option to continue working with them at NCA but it was not something he wanted.
"That was one of the options at one stage we thought about. But I decided to move on," Dawes said.
Dawes had told an Australian newspaper that the BCCI felt language had been a hindrance in his interactions with the Indian players.
"They thought there was a language barrier issue," Dawes had said. "But I had things in place to assist me with that. I have a very simple grasp of Hindi but cricket is also a universal language. I would use either the manager or one of the bowlers who spoke English to communicate. I would use Ishant Sharma all the time because he spoke good English. I would always make sure he was around to give me a hand."
Dawes, who was hired by the BCCI as the bowling coach after the 2011-2012 tour of Australia where India suffered a 4-0 whitewash in the Test series, said no one conveyed to him that language barrier was one of the reasons behind the BCCI losing confidence in him.
"The only time I heard was about a supposed leaked BCCI report that Ravi Shastri wrote (about language barrier being a reason). But I have not seen that or been told that directly by anyone," he lamented. The former Queenslander he had been preparing for the World Cup with the team for two years and was not disappointed to have lost it mid-way.
"I was looking forward to the tour of Australia. No doubt. But things happen in life for a reason. They wanted to get some Indian coaches involved. It is a tough one.
"We had been working towards this tour from the England Test series in India two years ago. We had already started planning from then since we knew we had a good 18 months with tours in South Africa, England and Australia.
"What we were trying to create was a unit to work together, a unit that would know each other personally, was going to go out and bowl their hearts out not just for India but also for each other."
Dawes said his "proudest" contribution was working on Ishant's growth as a leader of the group and it was "heartening" to see the India players walk into his room in England to leave messages, a pointer that he had built good relationships within the team.
"I leave with no regrets and am looking forward to the future."
Image: Joe Dawes, the former bowling coach of India
Photo: Clint Hughes/Getty Images