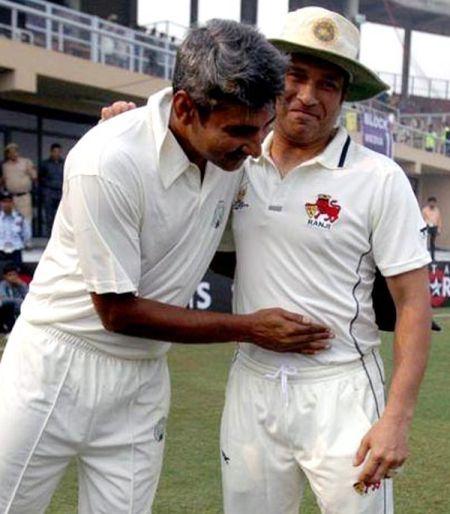 The logjam at the Delhi District Cricket Association is all set to end as 19 members of the all-powerful executive committee proposed the name of former India batsman Ajay Jadeja for the chief coach's post.
The move to appoint Jadeja as the chief coach was confirmed by the DDCA president Sneh Prakash Bansal but he also said that it needs to be ratified in the next few days.
He also informed that Vinay Lamba has been appointed the chairman of senior selection committee with Rahul Sanghvi and Hari Gidwani as its members, while Nikhil Chopra will head the junior selection committee with Suresh Luthra and Sunil Valson in it.
"Ajay Jadeja's name has been proposed by majority of members. There are signatures of 19 directors (out of 27). Now the name needs to be ratified at the Executive Committee meeting so that we can give him the appointment letter," Bansal said.
When Jadeja was contacted, he refused to comment as he was yet to be officially intimated although he made it clear that he is ready to take up the job if offered.
"I am only hearing from media about the development. There has not been any official contact from anyone but I am somebody who has been associated with game for last 25-30 years. I have loved guiding players and if offered why not. I have been a part of Rajasthan and Haryana Ranji sides guiding the youngsters," Jadeja said.
According to sources, Government Directors in the DDCA including Lok Sabha MP Parvesh Verma (son of former Delhi CM late Sahib Singh Verma), Sunil Yadav and Rajan Tewari, took the initiative late last night to end the impasse.
Subsequently, the Directors in the DDCA Executive Committee were contacted and their signatures sought by DDCA president Bansal. However former India opener and DDCA vice-president Chetan Chauhan, who is a known adversary of
DDCA president, was unaware of the development.
"I had no clue about the developments as I am not privy to what a tainted association president (Bansal) does," a livid Chauhan said.
For the second day in a row, Gautam Gambhir was absent from the Ranji team's practice session.
While Gambhir is still hot favourite to be the captain, there is every possibility that he will face stiff competition from current India A skipper Unmukt Chand as he is the preferred choice of at least one of the members of the selection committee.
Image: Ajay Jadeja with Sachin Tendulkar
Photograph: BCCI