126 of Ashwin's 176 Test wickets, points out Bikash Mohapatra, have come on home turf. Half of the remaining 50 have come on similar surfaces in Sri Lanka and Bangladesh.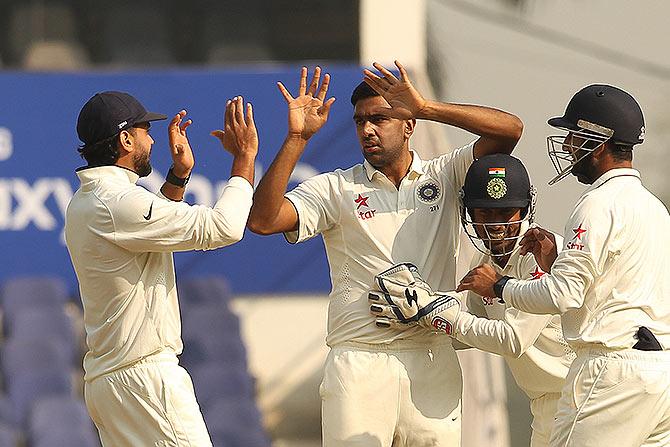 IMAGE: Ravichandran Ashwin celebrates taking Hashim Amla's wicket in Nagpur. Photograph: BCCI
3-0 for Virat Kohli and Team.
India rise to No 2 in the International Cricket Council Test rankings.
Man-of-the-series Ravichandran Ashwin (31 wickets) and Ravindra Jadeja took 54 of the 70 South African wickets to fall during the four-Test series.
India secured a first series triumph over South Africa in 11 years, ending the visitors' impressive nine-year unbeaten run overseas.
It is the first time India won three Tests in a series against the top-ranked South Africans, making it memorable.
Or, is it?
Even as fans and the media go overboard, hailing the triumph as 'historic', I want to ask: Is this how we want to win Test matches?
Do such wins raise the standard of our Test team?
Can Team India ever improve its awful away record?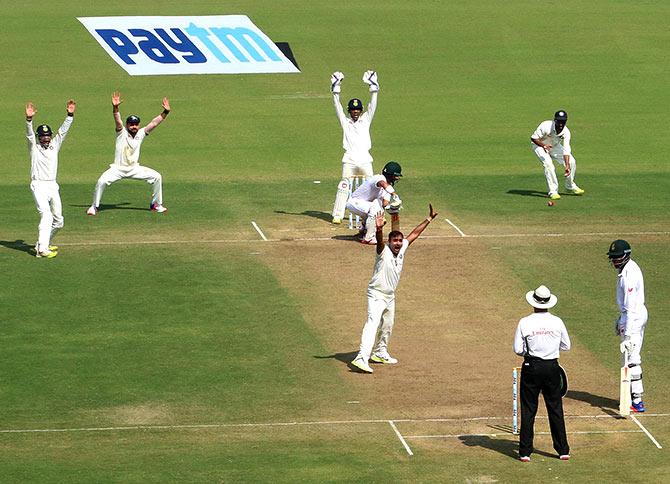 IMAGE: Amit Mishra appeals during the Nagpur Test. Photograph: BCCI
During the South Africa series, the pitches were at the centre of attention, not the performances of the two teams. Among those criticising the pitches were legendary cricketers Bishen Singh Bedi and Rahul Dravid.
The pitches were so bad that the Tests in Mohali and Nagpur did not last even three full days. The ICC deemed the Nagpur pitch 'poor'
Agreed, all home teams prefer wickets that play to their strengths. But modifying the pitches to the extent that the ball turns from the opening day itself is bit too much.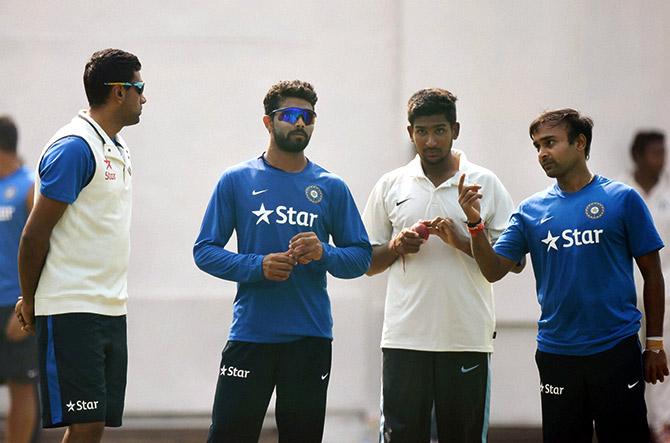 IMAGE: Indian spinners Amit Mishra, Ravichandran Ashwin and Ravindra Jadeja during a practice session. Photograph: PTI
If Ashwin and Jadeja are good bowlers they would take wickets on any pitches. Sadly, that's not the case.
126 of Ashwin's 176 Test wickets have come on home turf. Half of the remaining 50 have come on similar surfaces in Sri Lanka and Bangladesh.
Jadeja fares no better, with 50 of his 68 Test scalps coming on home grounds.
Their stalwart predecessors, Anil Kumble and Harbhajan Singh, were successful both at home and away, and did not need tailor-made wickets to deliver.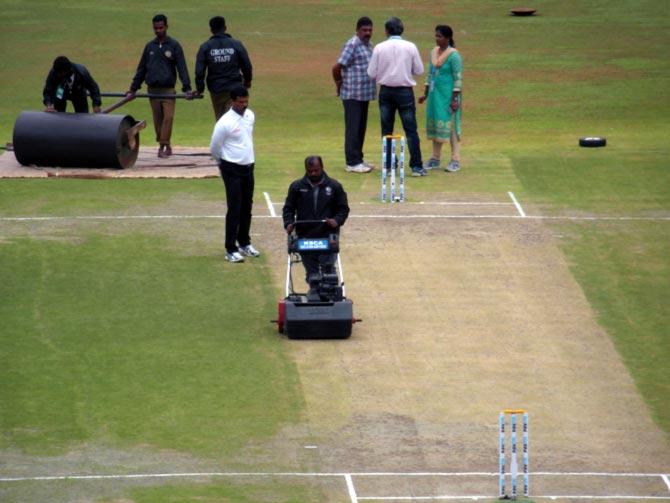 IMAGE: Ground staff work on the pitch during the second Test between India and South Africa in Bangalore. Photograph: Harish Kotian/Rediff.com
There is a counter-argument that Team India endures fast tracks and green tops away from home. But when India toured South Africa in 2010-2011 and 2013-2014, the wickets were very 'sub-continental'.
India squared the 2010-2011 series and was very much in control in the opening Test of the 2013-2014 series, forcing the hosts to dig deep.
Likewise, on its last two tours of New Zealand, Team India enjoyed 'sub-continental pitches'.
On India's last Australian tour in 2014-2015, flat tracks were on offer throughout the series, and the Indian batsmen -- led by Kohli with four centuries in as many matches -- made merry.
Had any of those wickets been seaming tracks that offered movement, India may have suffered a plight similar to what it suffered in 2011-2012, when the Indians lost 0-4.
Most Indian batsmen, as is well known, have a problem against the moving ball. On tours overseas, the Indian team expects fast tracks and so ingrained is that 'expectation' that they struggle to deliver even when the wickets are conducive.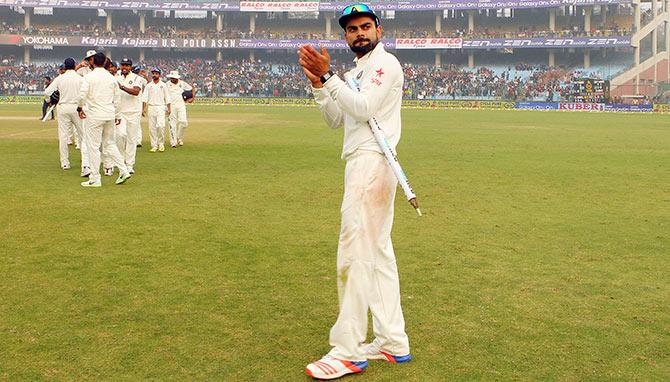 IMAGE: A jubilant Virat Kohli following the win over South Africa in the Delhi Test. Photograph: BCCI
Team India has an awful record against all top Test playing nations. So used to home comforts is the Indian team that it hasn't once won an away series either in Australia or South Africa.
Not once in its entire cricketing history.
Of course, these grim facts take nothing away from the team's achievements at home. But had the team played on more sporting pitches at home, its struggles overseas may have been mitigated.