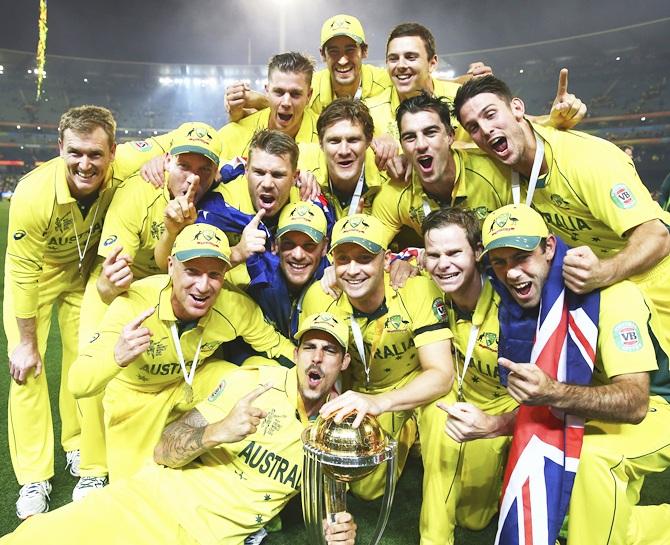 The Australian Team celebrate with the trophy. Photograph: Ryan Pierse/Getty Images
The ICC hailed the 11th cricket World Cup the 'most popular ever' and although most neutrals would have preferred New Zealand to win Sunday's final, there is no doubt Australia were worthy of their fifth title.
Power reigns
Michael Clarke's side had the best blend of deep batting, strong fielding and, most importantly, wicket-taking bowlers which made them fitting winners of a tournament where power was king.
Extraordinary, big hitters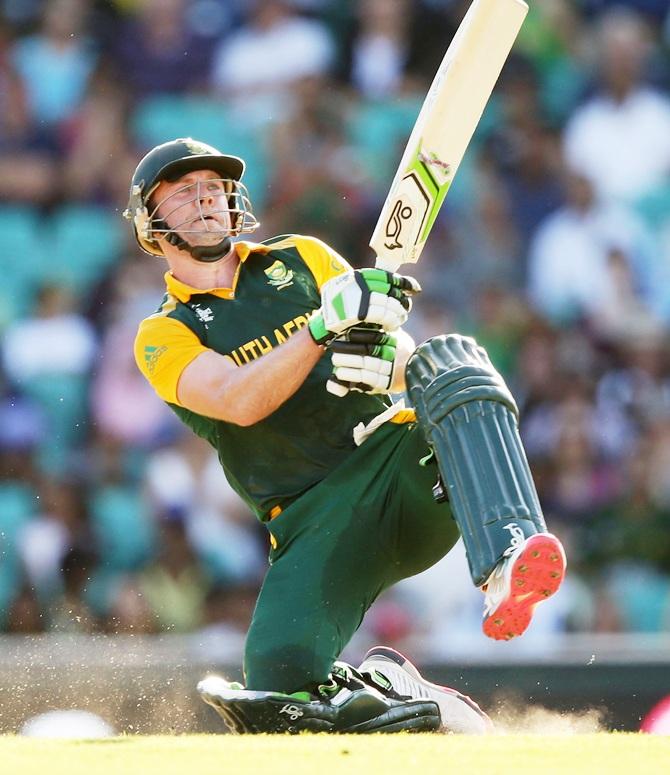 AB de Villiers of South Africa bats during the 2015 ICC Cricket World Cup match against the West Indies at the Sydney Cricket Ground. Photograph: Matt King/Getty Images
The big hitters, extraordinary batsmen like New Zealand's Brendon McCullum, South Africa's AB de Villiers and Australia's Glenn Maxwell, lit up the tournament and showed how much the 50-over game has transformed.
With improvised shots that sometimes defy conventional description, they punctured the boundary at all points as six became the new four while 400 became the new 300.
Popular World Cup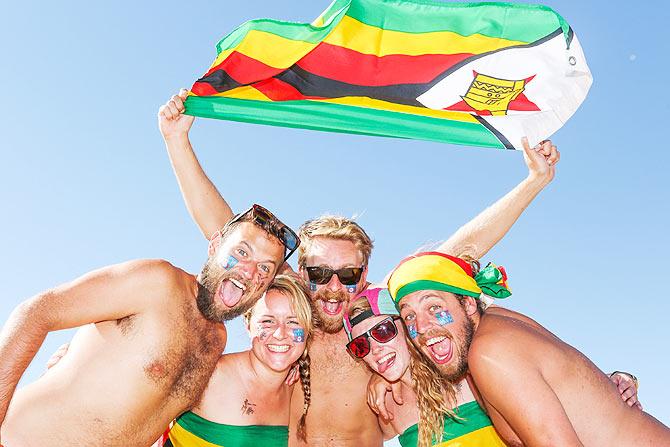 Zimbabwe fans show their support during the 2015 ICC Cricket World Cup match. Photograph: Hagen Hopkins/Getty Images
And popular it was. Fans crammed into grounds all over Australia and New Zealand in their hundreds of thousands - the final tally for all 49 matches was just over a million - and record numbers tuned in around the world on TV.
Taking wickets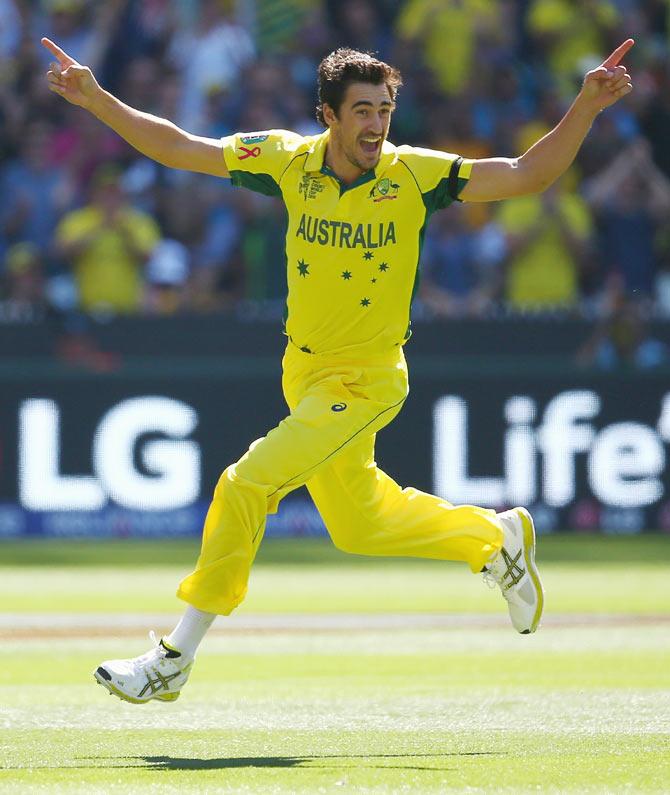 Australia's Mitchell Starc celebrates. Photograph: Mark Kolbe/Getty Images
Yet when the last six had been hit, the final batting power play concluded and the majority of the 93,013 fans at the Melbourne Cricket Ground were celebrating a home win, the Player of the Tournament was left-arm fast bowler Mitchell Starc.
The Australian was, by consensus, a worthy recipient.
The days of containing batting sides in one-day cricket appear to be over and the best way to stop runs being scored is now simply to take wickets.
Starc took 22 at the cost of just over 10 runs apiece, his stingy average putting him ahead of New Zealand's Trent Boult, who formed the most dangerous new ball attack in the tournament with Tim Southee.
Cause of the 'associate members'

Hamid Hassan does a cart wheel to celebrate the wicket of Kumar Sangakkara. Photograph: Martin Hunter/Getty Images
New Zealand's aggressive play was a major highlight in a pool stage that took a month to whittle 14 teams down to eight.
Afghanistan made a welcome World Cup debut and secured their maiden victory over Scotland in a Dunedin thriller, while Ireland beat West Indies and Zimbabwe only to miss out on the knockout stage in the final game of the pool phase.
Both advanced the cause of the 'associate members' though their battle to prevent the ICC reducing the number of teams in the 2019 tournament to 10, is one they look like losing.
England, unloved and unmourned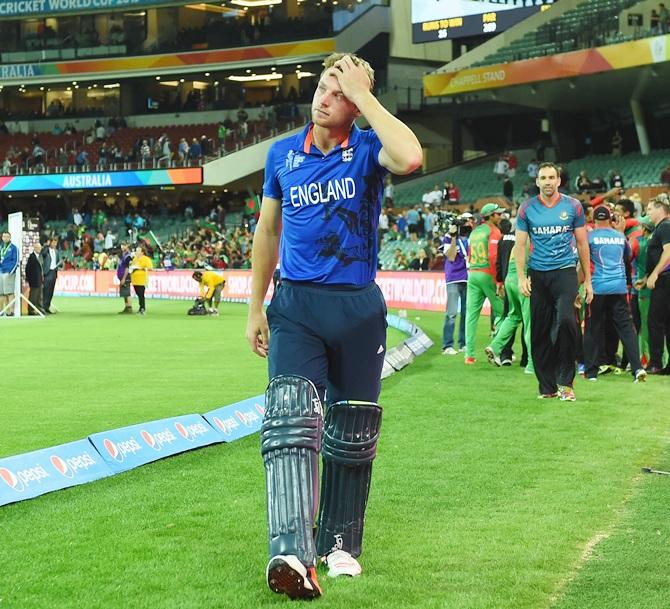 England vice captain Jos Buttler looks dejected. Photograph: Shaun Botterill/Getty Images
England came and went unloved and unmourned after a calamitous campaign in which they failed to beat any of their test playing opponents.
Jason Holder's West Indies scraped into the last eight only to be pounded into the ground by New Zealand, for whom Martin Guptill scored a record 237 not out, surpassing Chris Gayle's bludgeoning 215 earlier in the tournament.
Last campaign?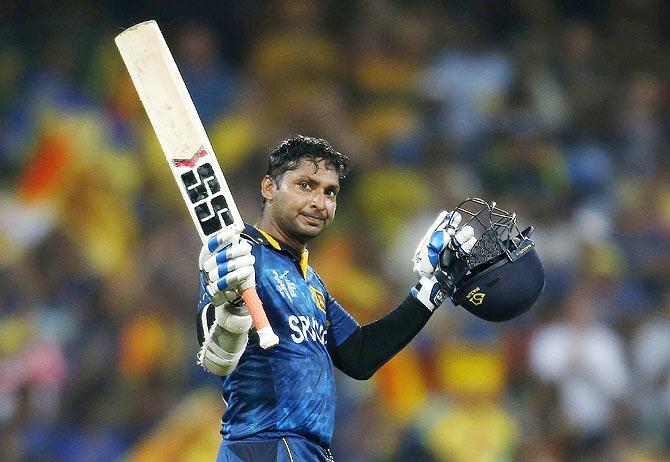 Sri Lanka's Kumar Sangakkara celebrates reaching his century against Australia during their Cricket World Cup. Photograph: Jason Reed/Reuters
Likewise, Sri Lanka's Kumar Sangakkara proved that prolific batting could still be about stroke play and not just destructive violence with an ODI record four successive centuries in his and Mahela Jayawardene's last campaign.
Misbah-ul-haq's Pakistan briefly revived memories of their triumphant 1992 campaign by starting poorly before storming into the knockout stages only to bow out to Australia.
Champions India brushed off a poor run-up to the tournament to romp unbeaten into the semi-finals, where they too fell victim to Australia's pace with skipper Mahendra Singh Dhoni conceding they had done well to get that far.
Australia skipper Clarke bowed out of the 50-over game a world champion for a second time after the final, hoping quitting one dayers might extend his career in Test cricket, which he still regards as the pinnacle of the game.
While he is not alone in that thought among the game's purists, the 2015 World Cup proved, if nothing else, there is still a place in cricket for a format between the test and Twenty20 games.
Shedding the 'chokers' tag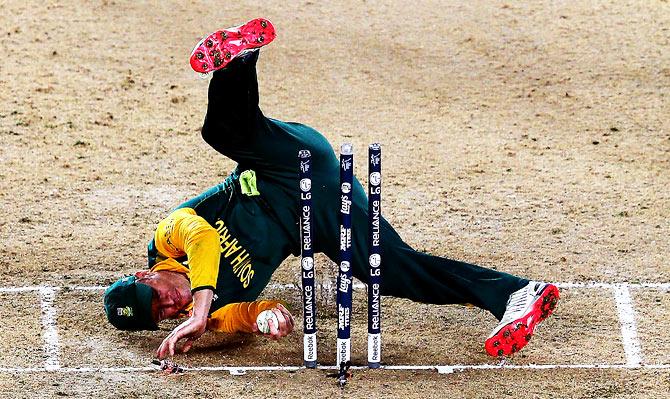 AB de Villiers falls over the stumps and misses a run-out opportunity. Photograph: Hannah Peters/Getty Images
South Africa went some way to shedding the 'chokers' tag by winning their first World Cup knockout match in the quarter-final against Sri Lanka only to reacquire it after defeat to New Zealand in the semis.
That Eden Park match, decided on the penultimate ball by a Grant Elliott six, was sporting drama at its very best, even if it was the only one of the seven knockout matches that proved a contest.