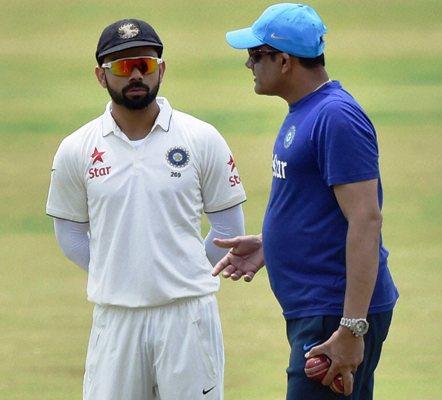 IMAGE. Captain Virat Kohli with coach Anil Kumble during practice. Photograph: PTI.
When India thrashed West Indies by an innings and 92 runs inside four days in the first Test in Antigua on Sunday, it was a winning start for new coach Anil Kumble in his current one-year team as the Indian coach.
Skipper Virat Kohli expressed his happiness with the start of this new chapter with Kumble as the guide and mentor of this side.
"Having played for so long I think he (Kumble) understands how the players feel about a victory. He congratulated everyone and gave special mention to the guys who made important contributions in the game.
"It might not be seen too much but those important breakthroughs and moments are very crucial for the team to win. He understands that very nicely and he was obviously very happy with the victory. It's a great start for him – first game as coach and we end up winning by an innings. We are very happy all round," said Kohli.
The Indian skipper was quick to attribute to the manner in which the team prepared for the tour having come here two weeks before the first Test, getting ample time to train and acclimatise.
"The preparation we had, coming here, understanding the conditions, adjusting – the time difference was a big factor at the start – conditions were very humid, they were hot, and it helped us to get that time to practise. We got two weeks here, which helped us a lot," he added.