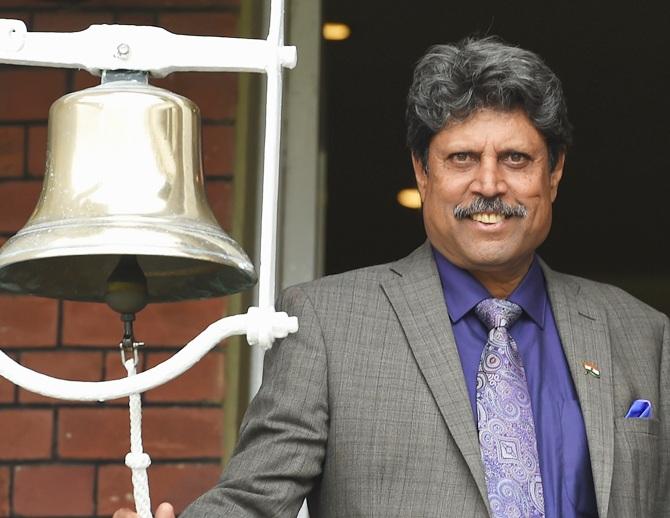 Former India captain Kapil Dev said that comparisons between all-rounders in international cricket can only happen when each one has played 50 Test matches in his career.
The World Cup winning captain and a legendary all-rounder during his time, Kapil does not believe that one should jump into conclusions after watching a player in just two or three series.
"I think, people should give a cricketer 50 Test matches before putting him into the race of being the best all-rounder. Somebody you are talking about and comparing with after two or three series is unfair," Kapil said at the inauguration of the 2nd Krishapatnam Port Golden Eagles Golf Championship in Bengaluru.
However Kapil was magnanimous in praising the present day all-rounders (he didn't take any names though) that young players are doing far better than yesteryear all-rounders like Hadlee, Imran and Botham.
"Hadlee, myself, Imran and Botham should forget our time and look at the present times. These young boys are very very talented. They are doing far better than us. So we should respect this generation," 57-year-old said.
Asked about who is the best seam bowling all-rounder, Kapil on a lighter note said: "I am the last one (best allrounder). That's it.
On a serious note he said: "But, it will be unfair to single out one current player to say he is the best allrounder, who could be in the league of Ian Botham, Imran Khan and Sir Richard Hadlee."
Kapil refused to predict as to who will come up trumps during the upcoming India versus New Zealand series.
"I don't make any prediction. I always went out and played my game. I would like to see what approach both teams adopt in the first Test. It is very difficult to say. Anything can happen," he said.
"I know more about my team but I don't know much about the opposition so it will not be right on my part to make any comments," said Kapil.