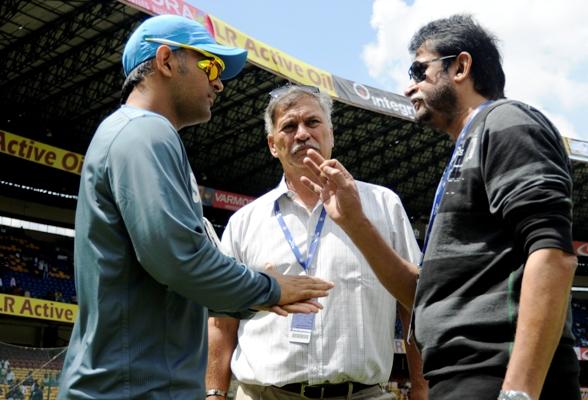 IMAGE: India's limited overs captain Mahendra Singh Dhoni, Roger Binny and Sandeep Patil (extreme right) in a discussion. Photograph: BCCI.
"The only sad thing about being a selector is that you end up losing some of your friends," said Sandeep Patil after the selection panel, headed by him, picked the last Indian cricket squad of its tenure in Mumbai on Monday.
Patil, who was appointed the chairman of selectors following the sacking of Mohinder Amarnath in September 2012, said he ends his term as a happy man.
"We have taken some bold and tough decisions looking at the future of Indian cricket. We are very happy at the end of our term that the team is doing well in all three formats and I wish the next committee all the best.
"Also, a big thank you to the BCCI for providing the opportunity. The Board has taken some great decisions during my time. We are happy with the roadmap the BCCI has drawn with Rahul Dravid taking over as coach of the juniors and Anil Kumble the seniors," said Patil at the press conference after picking a 15-member India squad for the upcoming three-Test home series against New Zealand.
Patil also said that he was very happy to state that no outside interference was there in selection matters during his tenure.
"In our four-year term not a single BCCI official of an zone approached the selection committee for any recommendation," he remarked.
"We also leave at a time when there is big pool of players to choose from, in all formats," he said.
Patil picked up the squad for home series in the presence of fellow selectors Saba Karim and Vikram Rathour, while Gagan Khoda and MSK Prasad joined in from Australia via video conference.
The former India batsman further said the team would do well against the touring New Zealand side.
"We have always done well at home and I am sure we will do well against New Zealand. Hope we also do well outside India," he said.
Patil skirted the question on whether Sachin Tendulkar was told in advance to call it a day before the hurriedly arranged three-Test series against the West Indies in 2013.
"There are some matters between the selectors and BCCI which should remain confidential and cannot be revealed," said Patil.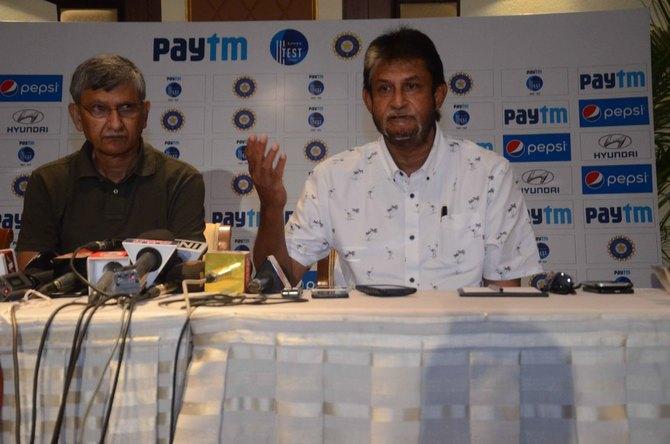 IMAGE: BCCI secretary Ajay Shirke with chief selector Sandeep Patil. Photograph: Arun Patil.
BCCI secretary Ajay Shirke, who was also present in the press conference, said the new selection panel would be picked after a thorough search.

"We want to give everyone a chance to apply for selector's post rather than choose someone on our own and that's why we have called for applications (for interview)," Shirke said.

Shirke said an age cap of 60 has been kept to ensure that candidates who apply have the experience of playing in all three formats of the game.

"The 70 years cap is for administrators (recommended by Lodha panel and upheld by Supreme Court).
"The 60 years cap we have kept is for selectors keeping in mind that those in 60 to 65 year bracket as an example would not have played all three formats of game. They might have played limited ODIs but no T20s," he explained.