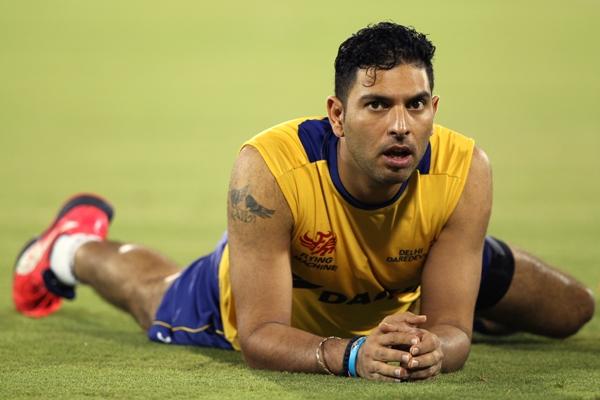 IMAGE: Yuvraj Singh during a practice session. Photograph: BCCI
Royal Challengers Bangalore Director Amrit Thomas has said the franchise team was interested in buying back Yuvraj Singh, who was eventually snapped up by Sunrisers Hyderabad for Rs. 7 crore in the IPL players' auction.
"I don't agree (that Yuvraj did not evoke interest among bidders). If you look at the bidding we were very interested, but issues of bidding and price ceiling issues, did not allow us to go for him. He is really a marquee player and hope he plays for us sometime in the future," Thomas said told reporters.
Yuvraj wasn't third-time lucky in terms of being the biggest buy after being the costliest player in the previous two auction.
The stylish southpaw has represented four teams, (Kings XI Punjab, Pune Warriors India, Royal Challengers Bangalore and Delhi Daredevils) playing 98 matches and scoring 2099 runs.
Thomas also said RCB was looking for an international all-rounder to get the balance right and the team is happy to have Shane Watson, for whom they shelled out a whopping Rs 9.5 crore.
"We believe so (buying Shane has added spice into the team). We were looking for Shane Watson for get the balance right in the team and finally we got him at the bargain price. He is an international allrounder and is the best in the world, and you can judge from his recent performance itself," Thomas said.