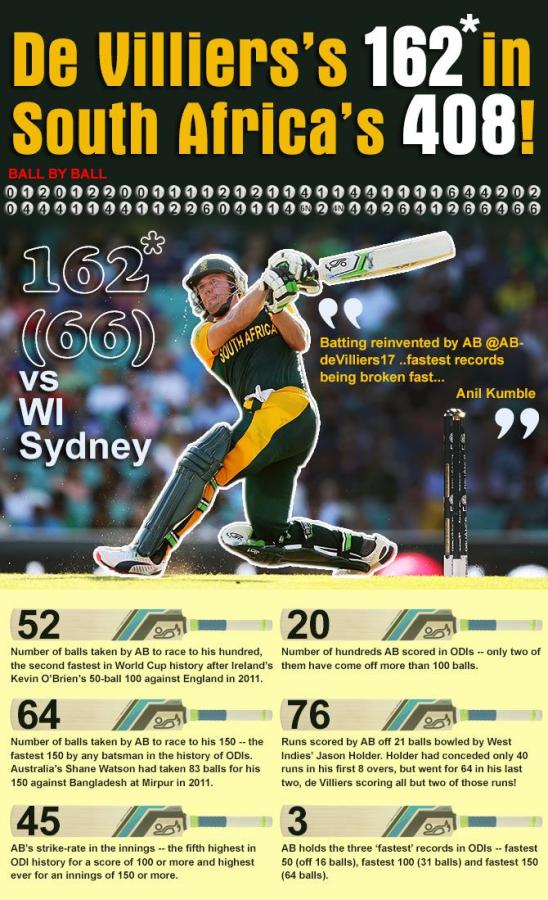 How South Africa's AB de Villiers demolished West Indies in the the World Cup match at Sydney. Graphic: Uday Kukian/Rediff.com
AB de Villiers smashed West Indies bowlers from pillar to post for the quickest 150 in one-day internationals on Friday but the South African skipper said only hard work earns a batsman the right to dominate in such a fashion.
The 31-year-old's innings of 162 not out from 66 balls climaxed with a stunning final passage where he blasted his final 50 runs off just 12 balls to bring the crowd at the Sydney Cricket Ground to its feet.
"You get into that kind of mode, and it doesn't happen very often, it's quite a good feeling to feel one step ahead of the bowlers, that's the main thing," he told reporters.
"You get a really good gut feel for what they're trying to do. It's part of cricket, you work really hard trying to get in, you work really hard to get some momentum behind you, then you've earned the right to take control of the game.
"Sometimes it goes you way, sometimes it doesn't. I got dropped a couple of times which helped me really free up and dominate a bit at the end."
"A bit" is something off an understatement and the West Indies bowlers must be heartily sick of the sight of de Villiers after he hit the fastest one-day fifty (16 balls) and fastest century (31 balls) against them in Johannesburg last month.