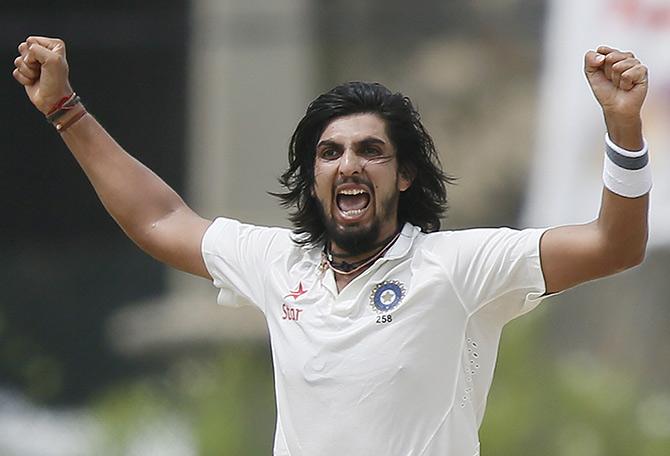 IMAGE: India's Ishant Sharma celebrates after taking a wicket. Photograph: Michael Steele/Getty Images
Team Director Ravi Shastri said fast bowler Ishant Sharma will have to learn how to draw the line while playing aggressive cricket and conceded that the team will miss him in the first Test against the Proteas, as he will have to sit out for breaching the ICC Code of Conduct during the Sri Lanka series.
"I know he has copped a lot of flak over the aggression and he will learn where to draw the line. But, let me assure you, he has the backing of the entire team. I want him to be aggressive and I will be the first one to push him in that direction. But I will also mark the line.
"We will miss him for the first Test. He is our most experienced fast bowler. He bowled beautifully in Sri Lanka and is in the form of his life.
"With a little bit of luck he could have picked 10 more wickets in that series," said the former India all-rounder.
'Ishant has gained immense understanding of his bowling'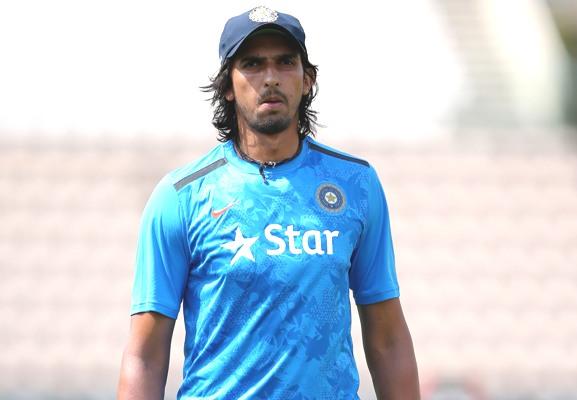 IMAGE: India pacer Ishant Sharma during a nets session. Photograph: Getty Images
Shastri said the pacer bowled like "million dollars" in Sri Lanka and played a big part in India's Test series triumph.
"I think it was a big knock he had to take going home from the World Cup. It was an honest decision on his part that he was not fit enough and at the same time it was a bitter pill to swallow.
"But with sacrifices like that come the good things. He rested well, trained extremely hard and understood his own technique and where he can improve.
"He bowled like a million dollars in Sri Lanka. And this is not the last of him. We will continue to see him bowl like that in the future, now that he has gained immense understanding of his bowling," he added.