'It wasn't just a matter of disappointment but it was a painful experience to watch Pakistan play like that'
'Changes are important in the leadership but we have to sit and think wisely'
'There is a lot of criticism but I am not going to change anything one week before the major tournament in India'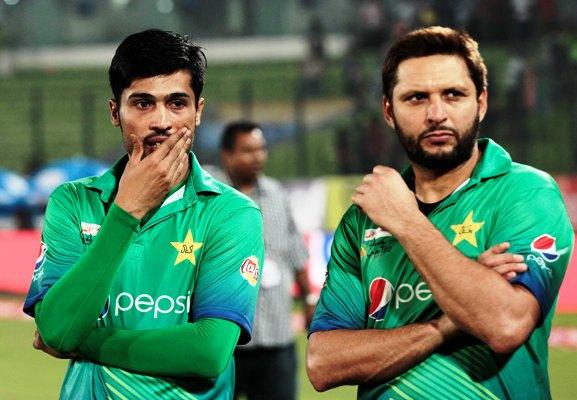 IMAGE: Pakistan's Mohammad Aamir, left, and Shahid Afridi after the defeat in the Asia Cup. Photograph: Solaris Images
Pakistan Cricket Board (PCB) Chairman Shaharyar Khan has slammed the team's performance at the Asia Cup but admitted it was too late to make sweeping changes ahead of the World Twenty20 this month.
The 2009 World Twenty20 champions lost to arch-rivals India and hosts Bangladesh, and only managed to beat United Arab Emirates, raising serious doubts about their potential to challenge for the title in the March 8-April 3 tournament.
Shaharyar said everyone from the coach to those involved in the selection process would be held accountable but added there would not be no knee-jerk reaction.
"It wasn't just a matter of disappointment but it was a painful experience to watch Pakistan play like that," Shaharyar told reporters in Lahore.
"The performance was very poor, other then a few individuals' performances, but I can assure that accountability is inevitable and whoever is responsible has to answer.
"Changes are important in the electoral process and leadership but we have to sit and think wisely."
The PCB chairman, who has emphasized the importance of conditioning in the shortest format of the game, said at least three to four players in Shahid Afridi's team appeared unfit.
While the pace attack was impressive in the tournament, Pakistan's batting let them down. They were bundled out for 83 against India and managed 129-7 against Bangladesh which saw them miss out on a place in Sunday's final.
"We will bring changes in selectorial process, coaching process and leadership process," Shaharyar said, adding that he had already sought advice from senior Test batsmen Younus Khan and Misbah-ul-Haq.
Pakistan added fast bowler Mohammad Sami and batsman Sharjeel Khan to their original squad for the World T20 following injuries to Babar Azam and Rumman Raes but the PCB chairman did not rule out further changes.
Afridi has also come under intense scrutiny due to his failures with the bat but Shaharyar said the 36-year-old all-rounder would captain the side in India.
"I understand there is a lot of criticism but I am not going to change anything one week before the major tournament in India," Shaharyar said.
"Afridi will remain captain unless he himself pulls out of the job. He has been serving Pakistan from the last 15 years.
"Some changes you will see will be done before we play our first matches in World T20 and other important changes will be done after the tournament."