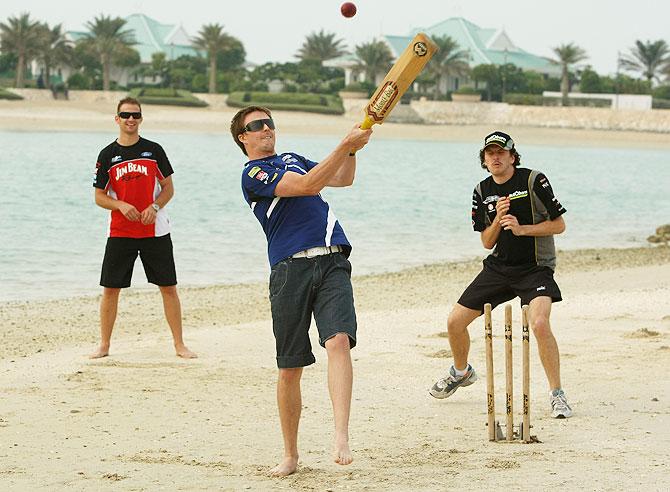 IMAGE: Mark Winterbottom of Ford Performance Racing plays a shot during a game of beach cricket (Image used for representational purposes). Photograph: Robert Cianflone/Getty Images
Australia's cricket chief James Sutherland believes beach cricket might be the solution to the logistical problems facing the sport in its attempts to get onto the Olympic schedule.
Recognising that the need for purpose-built stadiums in host countries with no cricketing tradition is a major cost barrier to Olympic inclusion, Sutherland suggested indoor cricket or a beach version of the game might fit the bill.
"Cricket on a traditional field is going to be a challenge in some parts of the world, so there are other ways in which it could be played," Sutherland told ABC radio on Friday.
"Beach cricket is not a silly idea. Nor is indoor cricket.
"Some of those things are perhaps more practical and achievable than big cricket fields like we're on right now."
Beach cricket has traditionally been an informal affair but an Australian brewer sponsored a Tri Nations series involving retired players from Australia, England and West Indies on several beaches around the nation in 2007.
Entry to the Olympics brings many benefits, particularly in countries like China, where the state throws its weight behind the development of a sport once it is part of the Games.
Concerns over the cost of hosting the Games led the International Olympic Committee (IOC) to reduce the number of sports under president Jacques Rogge but the policy has been reversed under his successor Thomas Bach.
Rugby sevens and golf are on the schedule for Rio de Janeiro next year while skateboarding and surfing, baseball/softball, karate and climbing have all been recommended by the organisers of the Tokyo Olympics for inclusion at the 2020 Summer Games.
"As we understand it, dealing with the nuances of the IOC can be challenging," Sutherland added.
"We've always been supportive of the idea, we believe it's a good thing for the broader development of the game.
"There's a whole lot of complexities, but we're optimistic and certainly will be pushing very hard for that to happen."