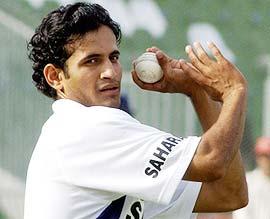 When Irfan Pathan was adjudged the 'Emerging Player of the Year' at the ICC awards last year, no one was surprised.
Since earning the India cap in December 2003, the 20 year old has bowled like he was born to play international cricket. Not once did he look out of place; never was he overawed by the opposition.
Pathan finished 2004 as the highest wicket taker in One-Day Internationals (47 wickets in 28 ODIs) and also contributed to India's success in Tests, taking 39 wickets in 10 matches.
In a freewheeling interview with Contributing Cricket Correspondent Harish Kotian in Mumbai, the Baroda speedster talks about his first year in international cricket.
Congratulations on being voted rediff,com's 'Cricketer of the Year' for 2004 ahead of Sachin Tendulkar, Anil Kumble, Virender Sehwag and Rahul Dravid…
I want to thank all your readers for giving me so many votes and selecting me as rediff.com's cricketer of the year. It is all because of their good wishes and blessings that I have done so well.Inshallah, I hope I continue to do well this year too.
You have completed a year in international cricket. How has the experience been?
It was a very good experience. I haven't realised that a year has passed since I made my debut (thanks god in Urdu). I have learnt a lot in this one year, starting with the Australian tour in December 2003 till the tour of Bangladesh in December. I played in a lot of series and have been through different experiences. There were some good and bad performances and also some injuries along the way. In sum, I have seen it all, but know that there's still a long way to go; there's still a lot to see and learn.
How did you feel when you were named the ICC's Emerging Player of the Year?
It was a very special feeling to win the ICC young player award. I just made sure that my performances on the field were good and the award came along.
You finished as the top wicket-taker in One-Day Internationals in 2004 and also claimed 39 wickets in Tests? How much work went into it?
Every bowler works hard; it is just that sometimes one bowler gets many wickets while the others, even after trying hard, fail to get even one. I had a good time and managed to pick so many wickets.
All the other bowlers in our team work as hard as me but sometimes luck also plays a part. In every field you have to work hard to be successful. I was rewarded for my hard work.
At a time when all the other Indian bowlers struggled with injuries, you managed to get through the year without any breakdown? Do you pay special attention to fitness?
Yes, I do pay much attention to fitness. Injuries always occur. You take any team in the world and any sport and you will never find them playing at full strength throughout the year; at some time or the other someone in the team will be injured. People should understand that nothing can be done about injuries; they are an inevitable part of the game.
There are billions of people in India and from among them only eleven get a chance to represent the country. That's why we feel we should always work hard and do well for the country. A player never wants to miss an opportunity to play but injuries come along the way and one can't help it.
We do pay special attention to fitness and training, but still injuries happen. It is not a bad thing to get injured. There is no need to make a big issue if someone gets injured.
How important is the trainer's role?
The trainer plays an important role and keeps us on our toes. He always advises us to work hard on our fitness. If someone gets injured, he undertakes the recovery programme. There are swimming pool sessions, stretching sessions, yoga, weight training, running sessions and aerobics in order to maintain a high level of fitness.
You look at the history of cricket. There will hardly be any player who has been injury-free during his career. You will find very few instances, maybe four or five in a hundred, or maybe less than that.
I am lucky in the sense that I never suffered any major injury throughout the year. Even when I got injured (during the Australian series and in Bangladesh) I paid attention to my fitness and still worked out in the gymnasium as per the trainer's instructions.
If something is destined to happen it will happen, no matter what. You should not feel bad about it knowing that you have tried your best.
I think my job is to go out there, put in all my effort and not care about my performances. I work hard whether I get wickets or not.
What special fitness regime do you follow in the off-season?
When the season ends we are given a training programme by our trainer, Gregory King, and physio, Andrew Leipus. We have to follow that programme during the off-season.
The first few days -- that is around 5 to 7 days -- includes the recovery programme. After that the training starts, and we slowly build up. This period includes more of training and less bowling. During the season you bowl more and hence you cannot train as much. We do train but not as much as we do in the off-season.
Who are the people who have played a key part in your success thus far?
At every stage someone has played a part. When I started playing cricket at a very small age, my coach was Mehndi Shaikh Bashir. All the senior players of the Baroda cricket club also helped me a lot.
I must admit that the Baroda Cricket Association has played a very big role in my success. I played the under-15s and the under-16s after which I was selected for the MRF Pace Academy.
I learnt the importance of fitness at the MRF Academy -- about how to maintain fitness. They also provided me important knowledge on bowling actions, which has proved to be so vital.
Then I had some very good coaches at the India 'A' level, which include Sandeep Patil and Roger Binny, who guided me a lot. Former India wicketkeeper Kiran More was also helpful.
Now all the senior players in the Indian team help me. I don't even have to mention that because anybody can see it during a match.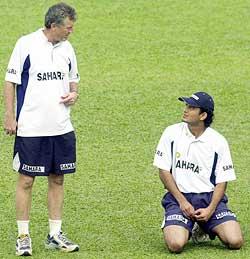 Our coach John Wright helped me improve tremendously in the last year. He handled me with so much care. He always keeps me on my toes and is eager to see me perform. He makes me realise how big it is to be playing for the country. Never does he make me feel that I am doing something extraordinary. Even today he treats me the same way as he did a year back and it has helped me to stay focused.
So the credit does not go to one single person, but many. If there was any problem with my bowling, someone helped me with it; if I had problems with batting, another member of the team would come up to help me. Similarly, there were others who helped to improve my fielding.
But the biggest credit goes to my family. My parents deserve all credit for guiding me and my brother to this stage. My brother Yusuf, who plays Ranji Trophy for Baroda, has been of great help too.
It is very important to have someone in your family who also plays and understands cricket. He plays first class cricket, so he discusses with me and provides good tips. He also played a very big role in helping me develop my batting.
What sort of help did former Pakistan captain Wasim Akram provide?
Media reports said Wasim Akram was coaching me. They were incorrect, because coaching is a different thing. He gave me important tips about fast bowling which have proved very useful.
I first met him at Adelaide in December 2003. He did not even know me as I hadn't played international cricket. But he was nice to me. He said my bowling action was very good and suggested different types of wrist actions.
The important thing is the amount of confidence I got after speaking to him. Imagine such a great bowler speaking so nicely to such a young bowler. Obviously, he must have seen something in me; he made me feel special and gave me the confidence that I can do really well.
How it feels to do better than Zaheer Khan?
I always believe that there are ups and downs in one's career. Zaheer is mentally a very strong person and I admire him for that. He has been India's best bowler for the last couple of years and still is the number one. You just cannot evaluate him on his current performances, because sometimes you get a lot of wickets, while sometimes you don't get any even though you bowl very well. But his strength and bowling ability is unmatched.
If I have a problem with my bowling I still take help from him. You can approach him any time, whether he is in good form or not, and he will help you. That is the best part about him.
I don't believe in terms like 'number one bowler,' because till you are performing, people regard you as the best bowler in the team. If someday you fail to perform, the same people will say bad things about you.
I believe that if 11 players are playing in a team nobody is number one or number two. In their own way they are number ones, but the team is always one.
You were thrust into international cricket at the raw age of 19. How did the senior Indian players help you to get settled?
They helped me a lot. Just imagine the captain giving you the new ball in your first match. It shows he has so much confidence in you; that really helps to build your confidence.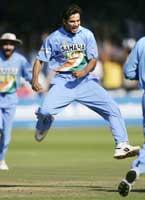 Then, at mid-on or mid-off you have Sachinbhai (Tendulkar) and Dada (Sourav Ganguly), who both constantly advice me.
Sachin, especially, helps a lot. He keeps me in control by saying 'don't try too much; just bowl on a good line and length and it will swing automatically, you have so much talent, come on you can do it.'
Rahulbhai (Dravid), Laxmanbhai (V V S Laxman), I mean everyone, are very supportive.
I still remember my debut match ( the second Test against Australia at Adelaide in 2003). Every team member urged me to play without any fear. They did not know how I would do in the future, but still they helped me. After me so many new players have come and the seniors help them too to settle down and feel comfortable in the side.
When I received the Indian cap from Ganguly. He said, 'Go out and give your best.' Those words are still fresh in my mind.
Who are your best mates in the Indian team?
All the members in the team are my best friends. There is nothing like I am not friendly with a particular player. The whole team is like a family and whenever I feel like I can drop into anyone's room.
Who are your all-time favourite fast bowlers?
Wasim Akram and Zaheer Khan. I like them because they are also left-arm fast bowlers. There are also other great fast bowlers that I admire, like Dennis Lillee, Kapil Dev and Javagal Srinath, but because Wasim and Zaheer bowl left-arm I would class them as my all-time favourite bowlers.
Who are the batsmen you have found it difficult to bowl to?
All batsmen are difficult to bowl to. If you bowl badly even a number eleven batsman will hit you for runs. When you bowl well no batsmen is difficult for you.
I don't think bowling to any batsman in international cricket is an easy job. Every batsman has his own different style, his strengths and weaknesses.
How much pressure is there during a one-day international or Test match. Former Australian great Keith Miller once said, 'There is no pressure in cricket.' Do you agree with the statement?
It depends on the individual. Maybe, Miller's thinking might have been different. Everybody faces pressure, but the important thing is how you handle it.