Statistical highlights from the eliminator match of the Indian Premier League played between Chennai Super Kings and Mumbai Indians in Bangalore on Wednesday.
# Mahendra Singh Dhoni has recorded a half-century and effected three dismissals in an innings in the same IPL match for the first time.
# Kumar Sangakkara and Adam Gilchrist have registered the above 'double' twice each in the IPL. Parthiv Patel, Dinesh Karthik and Dhoni have achieved the distinction once each.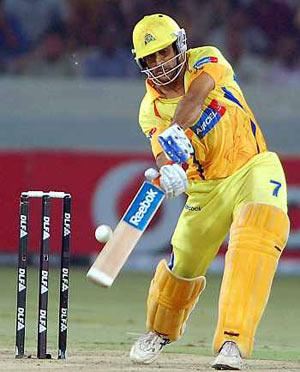 # Dhoni's brilliant strike rate of 255.00 is the second highest in the present competition (minimum qualification 50).
Only AB de Villiers has recorded a better strike rate of 256.52 in the present tournament while posting 59 not out off 23 balls for Bangalore against Rajasthan at Jaipur on April 23.
# Dhoni (51 off 20 balls) has recorded his first fifty in the present tournament -- his ninth overall in the IPL.
# Dhoni has been adjudged the Man-of-the-Match for the seventh time in the IPL.
# Dhoni took 20 balls for his half-century -- the fastest by a Chennai batsman in the IPL.
# Dhoni, tally of 1745 runs at an average of 37.12 in 76 matches for Chennai Super Kings, is a record as captain in the IPL, overtaking Sachin Tendulkar's tally of 1723 (ave.40.07) in 51 games for Mumbai Indians.
# Dhawal Kulkarni has bowled quite well to take six wickets in two games at an average of 10.66 for Mumbai Indians in IPL 5.
# Rohit Sharma, with 42 catches, has established a fielding record in the IPL history -- the next highest is Suresh Raina's 41.
# Michael Hussey (49 off 39 balls) took his run-aggregate in the IPL to 884 at an average of 40.18 in 27 games, including a hundred and five fifties.
# Malinga could bag only two wickets in his last six games in the IPL 5.
# Dhoni and Bravo were associated in a match-winning stand of 73 (unbroken) for the sixth wicket, emulating a partnership record for Chennai in the IPL. Hussey and Badrinath had added 73 (unbroken) against Punjab at Mohali on April 19, 2008.
# Rohit Sharma (433), Ambati Rayudu (333) and Tendulkar (324) are the three batsmen to have managed 300 runs or more for Mumbai Indians in the IPL 5.
# Harbhajan Singh has bagged only six wickets in 17 matches at an average of 64.00 in the present tournament -- his strike rate being 54.0.
# Dwayne Smith's batting average of 39.25 (157 in six innings, twice not out) is the best by a Mumbai player in the IPL 2012. (Minimum 100 runs).
# Chennai's splendid 38-run triumph their largest by runs margin over Mumbai in the IPL.
# Chennai have won five games and lost six out of eleven played against the Mumbai Indians in the IPL -- a winning percentage of 45.45.
# Chennai's 187 for five is their second highest total against Mumbai in the IPL, next only to the 208 for five at Chepauk, Chennai on April 23, 2008.
# Kieron Pollard (199) is one short of 200 sixes in Twenty20.