Deepak Prakash tells Harish Kotian he is convinced that the Delhi Police was wrong in arresting S Sreesanth on charges of spot-fixing in the IPL.
Has the Delhi Police wrongly arrested Shantakumaran Sreesanth on charges of spot-fixing?
If the former India pacer and Rajasthan Royals player's close friends and lawyer are to be believed, it would seem so.
A close friend of Sreesanth says the police have failed to produce any substantial evidence against the Kerala cricketer.
"Sreesanth has not confessed anything to the Delhi Police; that story is completely wrong! In fact, the Delhi Police is now wondering whether Sreesanth did anything wrong to be arrested, because there is nothing they can prove against him," he told Rediff.com on Friday.
The bowler's lawyer, Deepak Prakash, said he met Sreesanth twice, on Friday morning and again in the evening, and is convinced that the police were wrong in making the arrest since there is hardly any evidence against him.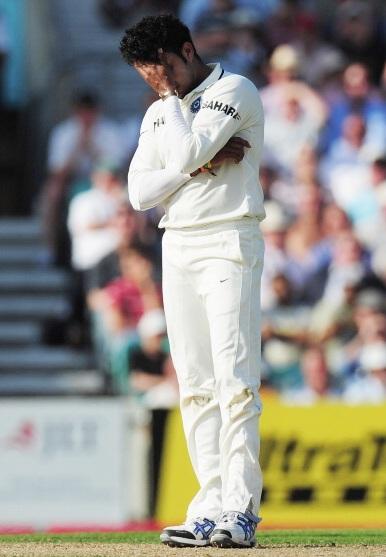 Sreesanth has now moved a Delhi court seeking a copy of the FIR against him.
"The accused should be told about the grounds of arrest," Prakash said.
A special cell of the Delhi police arrested the India pacer and his Rajasthan Royals teammates, Ajit Chandila and Ankeet Chavan, for allegedly indulging in spot-fixing in at least three IPL matches as per arrangements with bookies who have underworld connections abroad.
According to the police, Sreesanth, who allegedly received Rs 40 lakh for spot-fixing during the Rajasthan Royals vs Kings XI Punjab match on May 9 in Mohali, gave a signal to bookies by tucking a towel in his trousers to indicate he would concede a certain number of runs in his second over.
It was also revealed that the pacer gave the bookies time to bet by warming up before coming on to bowl. He then went on to concede 13 runs in the second over of his spell.
Sreesanth is believed to have told investigators of the Delhi Police's special cell that there was nothing wrong in using a white towel and he used it in the past too in most matches he played. He claimed he is very superstitious and considers white lucky for him.
"There have been instances in the past when things did not go well for Sreesanth in the first over after which he resorted to using the white hand towel. There are many matches in the past when he used the white towel in between," said his lawyer.
Prakash further added that Sreesanth's stand has left the Delhi Police in a dilemma since they do not have enough evidence to back their claims against him.
He also pointed out that there is no proof of any direct conversation in any medium between Sreesanth and bookies.
Sreesanth is said to have told his interrogators that his friend Jiju Janardhan betrayed his trust and got him embroiled in this latest spot-fixing episode.
Jiju is a good friend of Amit Singh, another alleged bookie who was among those arrested on Thursday. Having played domestic cricket for Gujarat together, they got friendly with Sreesanth.
Born in Kerala, Janardan represented Gujarat in the Under-16 Vijay Merchant Trophy (1999-2000), Under-19 Cooch Behar Trophy (2001-02) and the Under-22 Col CK Nayudu Trophy (2003-2005).
He left Gujarat and tried his luck in Kerala in 2007, hoping his proximity to Sreesanth would get him into the Kerala Ranji Trophy team, but the move failed to materialise.
A close family-friend of Sreesanth, who did not wish to be named, said Jiju was always after money and would do anything for it.
"40 lakh is nothing for Sreesanth; after all, he gets 2.50 crore from Rajasthan Royals. For Jiju, this 40 lakh is big and he used the situation to his advantage without telling Sreesanth anything," he said.
"Sreesanth wasn't aware of the conversation between Jiju and the bookies. Since Jiju knows that Sreesanth usually uses a white towel, he must have arranged a deal with the bookies for the same. He had been travelling with Sreesanth since the start of the IPL so he was aware of every little detail pertaining to him.
"It's true that Jiju and Sreesanth are long-time friends. They met at the MRF Pace Academy around 2005, and after Sree got into the Indian team, Jiju stuck to him. Sree always thought he was a friend who genuinely cared for him.
"In fact, Sreesanth even caught him stealing one of his shirts. He has lots of costly, branded shirts. This was in 2011. In fact, this morning, Sreesanth's mother recalled that one day Sree had been to Jiju's house and found many of his shirts there. When asked about it, Jiju said he had just taken them and would return them. She had warned him then to stay away from Jiju, but he told her he is his friend and continued to keep his company. Now he has to pay for it," the friend added.
Photograph: Shaun Botterill/Getty Images