Former India batting ace V V S Laxman says the credibility of cricketers will not be affected just because some players have allegedly been involved in spot-fixing in the IPL.
Speaking on the sidelines of a promotional even in Mumbai on Wednesday, he said, "Because of some greedy players the credibility of the rest should not be affected. I think it is a very important issue and I am sure it (the game) will be cleaned up very soon."
Laxman said he went through a "feeling of anguish" in the days after the spot-fixing and betting scandal hit Indian cricket.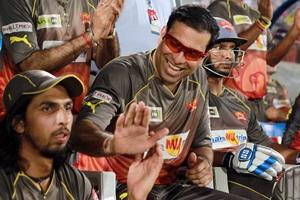 "It's very disappointing. The last two weeks have been quite distressing. A feeling of anguish was definitely there. The various investigations by police in Delhi, Mumbai and Chennai, I am sure, will come to a logical conclusion," said Laxman.
The stylish Hyderabadi batsman also said the cash-rich Indian Premier League will surely miss the presence of Sachin Tendulkar and Rahul Dravid next season.
"Sachin and Rahul have been real icons for the game, not only the IPL. Definitely, IPL will miss them. Both were very important members of their respective franchises; they have done well for their franchises over the last six years," he said.
Laxman, who was mentor of Sunrisers Hyderabad, which made the play-offs in the just-concluded IPL 6, said the manner in which the team won close matches augurs well for its future.
"I think the experience of working with the Sunrisers team was fantastic; the team has done really well. I am pleased with the way they responded to some challenging matches. We won some close games, especially at the start of the tournament; it was purely because of the attitude of the entire team.
"We showed a lot of fighting spirit and won some close games. I think it is very encouraging for the future of Sunrisers," he said.
Laxman, who is part of Gillette's 'Soldier for Women' campaign, said, "Women have played an important role in my life, starting with my mother. The way she brought me up right from my childhood. The kind values she inculcated in me… because of that I have been able to achieve I have done.
"After marriage it has been my wife. It is tough being the wife of a cricketer because most of the time you are travelling. She had to make a lot of sacrifices which she did," he said.
Image: VVS Laxman in the Sunrisers Hyderabad dug-out at IPL 6
Photograph: BCCI