Pushed into a corner, the embattled N Srinivasan's days as BCCI President appear to be numbered as more Board officials have threatened to quit following the resignations of two senior functionaries in the wake of the IPL spot-fixing scandal.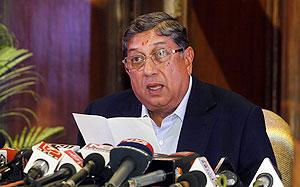 According to top BCCI sources, a message has been conveyed to Srinivasan that he should step down on his own, failing which, more Board officials will put in their papers to bring about a constitutional crisis in the body.
- IPL spot-fixing: Something significant to happen in a day, says Jaitley
- N Srinivasan and the men who matter in the BCCI
- BCCI emergency meeting to be rescheduled
- Top BCCI officials Jagdale and Shirke resign
Vice President Arun Jaitley and Joint Secretary Anurag Thakur gave ample indications of a major happening when they told media to wait for 24 hours for a significant development, raising speculation that Srinivasan may tender his resignation or Satyrday or latest by Sunday.
"Wait for a day, you will hear something significant," said Jaitley when asked if the five Vice Presidents of the Board, including him, could put in their papers on Saturday.
"Wait for a day, something significant is about to happen. Just be patient, we are committed to improving the image of Indian cricket. The Police probe is still on, we have to be a little patient," said Thakur.
The under-fire Srinivasan's adamant stand of sticking on to the post of BCCI President despite the damaging IPL spot-fixing scam, prompted Board Treasurer Ajay Shirke and Secretary Sanjay Jagdale to resign in protest on Friday.
The crisis in the BCCI has deepened with every passing day after Srinivasan's son-in-law and Chennai Super Kings Team Principal Gurunath Meiyappan was arrested for alleged involvement in betting.
Srinivasan, whose company India Cements owns CSK, refused to resign despite repeated calls for his ouster, insisting that he did no wrong.
Srinivasan, however, convened an Emergency Working Committee meeting on June 8 hours after information spilled out that the ICC had warned Meiyappan to keep away from bookies at the start of IPL.
But Thakur said the meeting could now be brought forward to June 4.
Asked if he was contemplating resigning from his post due to the scandal, Thakur was evasive.
"It is not a question of whether I resign or not, what is important is that the game should be clean. We need to look into the grey areas and improve the standard of the game," Thakur said.
He reiterated that Srinivasan should resign in the interest of a fair probe.
There were also reports that a few of the Vice Presidents may resign during the day to add further pressure on Srinivasan. The five Vice Presidents are Jaitley (North), Niranjan Shah (West), Sudhir Dabir (Central), Chitrak Mitra (East) and Shivlal Yadav (South).
However, it is learnt that Mitra is not keen to put in his papers.