Pressure is mounting for the resignation of Board of Control for Cricket in India president N Srinivasan in the wake of the alleged involvement of his son-in-law and Chennai Super Kings CEO Gurunath Meiyappan in betting on IPL matches, even as questions were raised over the future of the franchise.
The 35-year-old Gurunath, who was summoned by the Mumbai police for questioning after actor Vindoo Dara Singh implicated him in betting, flew to Mumbai from Madurai, in a chartered aircraft a little after the police's 5 pm deadline.
He was accompanied by noted Chennai lawyer P S Raman.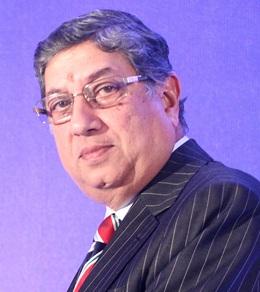 In an attempt to cut losses, India Cements, which owns Chennai Super Kings, sought to distance itself from Gurunath, saying he is neither the owner nor CEO or Team Principal of CSK.
"Mr Gurunath is only one of the Members (Honorary) of the Management team of CSK. India Cements follows zero tolerance policy and if anyone is proved guilty, strict action will be taken immediately.
"India Cements assures full cooperation with BCCI and the law enforcement authorities," a statement, issued by T S Raghupathy, Executive President of the company, said.
However, Srinivasan's woes appeared to mount with demands for his resignation getting louder.
The NCP, headed by Sharad Pawar, a former BCCI president, demanded that Srinivasan quit immediately "if he has any sense of morality and public accountability".
Party spokesman D P Tripathi told a press conference that Srinivasan was under a shadow of doubt after his son-in-law had been summoned by Mumbai Police for questioning.
Sahara Group chief Subrata Roy, whose team Pune Warriors withdrew from the IPL couple of days back, also demanded Srinivasan's resignation.
Questioning Srinivasan's conflict of interest in the game, Roy said Chennai Super Kings' contract should be terminated immediately in the wake of franchise owner Gurunath's name cropping up in the spot-fixing scandal.
"If a franchise is involved in betting their contract should immediately be scrapped. If a owner is involved in betting it's wrong," he said.
Analysts say that if Gurunath is arrested by the Mumbai police and charges are levelled against him, it may threaten CSK's continuance in the hugely popular T20 league.
They cite a rule in the IPL contract for teams which provides for termination if a franchisee, any franchisee group company and/or any owner acts in any way which adversely affects the reputation or standing of the league, the BCCI, IPL or the game of cricket.
Image: BCCI chief N Srinivasan
Photograph: BCCI