The Delhi police has opposed the bail plea of Rajasthan Royals player Ajit Chandila in the IPL spot-fixing scandal, saying he is a "key conspirator" in the entire case and was acting at the behest of a syndicate run by gangster Dawood Ibrahim.
In its reply filed before Additional Sessions Judge Ajay Kumar Jain, the Special Cell of Delhi police said Chandila was directly in contact with bookies and players and had received money to perform as per their directions.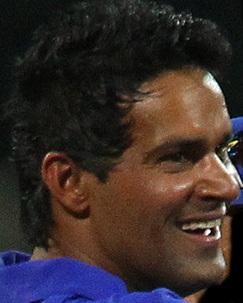 "For accused Ajit Chandila, it is reiterated that this player has emerged as the key conspirator in the entire chain acting on behalf of the syndicate... A huge amount of money has also been recovered at his instance, which was received from various fixers. In view of the centrality of his role, his bail is strongly opposed," the police said.
The police reply came on the bail applications filed by Chandila, Ashwani Aggarwal, Baburao Yadav, Deepak Kumar and Sunil Bhatia, which was also strongly opposed.
The court also directed the police to file its reply on the bail application of alleged bookie Ramesh Vyas, who moved the court seeking relief after being remanded in judicial custody till June 18.
After hearing the arguments for a short time, the judge adjourned the applications for Saturday saying he has to go through the file thoroughly.
The Delhi police on May 16 arrested three cricketers – Shantakumaran Sreesanth, Chandila and Ankeet Chavan of Rajasthan Royals -- on charges of spot-fixing.
They slapped provisions of the Maharashtra Control of Organised Crime Act (MCOCA) on Sreesanth, Chandila, Chavan and on 25 others in the case, alleging that they were acting under the command of underworld don Dawood Ibrahim and Chhota Shakeel.
Image: Ajit Chandila
Photograph: BCCI