The confession of a crime before the police may not be admissible in law, but if the three cricketers arrested in the IPL spot-fixing episode are proved guilty, they face imprisonment up to three months under the Public Gambling Act of 1867.
Sources in the Delhi police told rediff.com that they will file a supplementary chargesheet in the case in the next three weeks. As of now, based on the confessions, circumstantial and video/audio evidence, they are building up a case.
The three Rajasthan Royals players – Shantakumarn Sreesanth, Ankeet Chavan and Ajit Chandila – have, according to the police, confessed their involvement in spot-fixing at some matches in the ongoing Indian Premier League.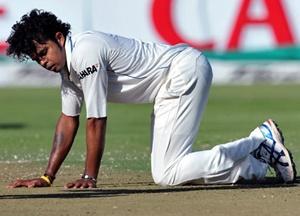 Sources said the arrested bookies, during questioning, revealed names of their associates in Ahmedabad, Kolkata and Hyderabad. A team has been sent to these places to conduct seizures and searches.
The case of the Delhi police is very tough. All the three players will deny the confession before the court, stating that it was made under duress. The police will try and then facilitate a confession before the magistrate which will have more hold under the law. They will have to then corroborate all the evidence and justify the confessions by the players and bookies.
The Delhi police will first file a supplementary chargesheet and then seek more time for investigation.
The problem is that this betting syndicate has an international dimension, not only in terms of the people who man it, but also on the Internet.
The Delhi police are studying the Pakistan, Bangladesh and Dubai modules and will need the help of the Interpol.
Moreover, there's the emergence of websites which offer betting on IPL games through invitation. These sites are created outside India and hands out invitations to Indian bookies to place bets not only on the outcome of matches but also on every ball.
These sites remain functional during a tournament and are taken down later adding to the woes of investigators. Police sources say that the bets placed online amount to at least Rs 15,000 crore.
The issue is that there is no proper law to govern online betting. It has to be brought under the purview of the Public Gambling act, which has a restricted scope. The act provides for a maximum punishment of three months' imprisonment and a paltry fine of Rs 200.