After Vindoo Dara Singh, Board of Control for Cricket in India chief N Srinivasan's son-in-law Guru Meiyappan is under the scanner now.
A police team is in Chennai to question Meiyappan following a statement by Vindoo that he was in touch with the man who is also the team principle -- in other words, the CEO -- of the Chennai Super Kings.
The police have also found calls that were made to Meiyappan.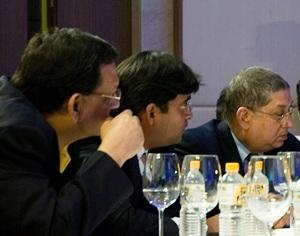 Vindoo was arrested on Tuesday in connection with the IPL spot-fixing scandal and the police had picked up on intercepts of his calls made to a bookie by the name Ramesh Vyas.
The Mumbai police claimed that Vyas was into spot-fixing and Vindoo was in touch with the man. Moreover, Vindoo was spotted at a number of matches played by the Chennai Super Kings and his calls to Meiyappan have only led the police to believe that there is something more to it.
The case against Vindoo Dara Singh is circumstantial in nature -- at least for the moment. The investigators have leads to suggest that he had taken part in betting, which is illegal in India. However, they are now trying to build the case and also finding out if he was involved in spot-fixing.
The police, during their questioning of Meiyappan, would try and find out why so many calls were made by Vindoo and if he was aware of a betting racket and also if he had anything to do with it.
Vindoo Dara Singh is the key link to this case and as per his confession to the police, which incidentally is not admissible in a court of law, he has admitted to betting. He says he has been part of betting since the last seven years and also pointed out that there is heavy betting in all IPL games. The police are still trying to ascertain what role Vindoo had in this syndicate and if he used his proximity with some team owners and bookies to fix matches.
Looking at the Vindoo case, it becomes evident that he had close ties with the bookies. The Mumbai police have stumbled upon evidence to suggest that he had helped bookies escape from India. Two bookies, Sanjay Jaipur and Pawan Jaipur, were helped by Vindoo to get out of the country and reach Dubai.
The problem for Vindoo is that he facilitated this alleged escape only after the betting scam broke out. He allegedly confessed to the police that he had booked rooms and also made arrangements to transport them to the airport.
An officer in the Mumbai police told rediff.com that they believe that Vindoo was part of the betting syndicate. "There is also a lot of indication to show a great deal of involvement by this small-time actor with the bookies and at the moment we have a doubt about his role in spot-fixing as well. He has repeatedly claimed that he was in touch with a franchisee owner."
"We are now seeking a statement from Meiyappan to find out the exact details of the various conversations that Vindoo had with him over the past couple of months," the official said.
Image: N. Srinivasan (right), owner of Chennai Super Kings with Guru Meiyappan (centre)
Photograph: Ritam Banerjee/Getty Images
Also Read
Bollywood in IPL fixing? Vindoo Dara arrested
I'm innocent, never indulged in spot-fixing: Sreesanth