BCCI President N Srinivasan remained defiant today rejecting demands for his resignation but moves are said to be afoot to oust him in the wake of arrest of his son-in-law and CSK team owner Gurunath Meiyappan on betting charges even as Sunday's IPL final involving the team may be gone ahead with.
Arriving in Mumbai on Saturday, he made it clear that he has no intention of resigning as he has done nothing wrong.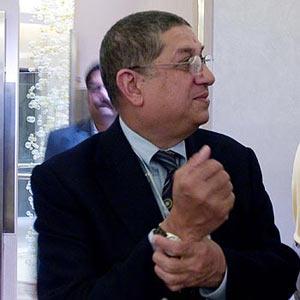 "I can't be bulldozed or railroaded into resigning. Some sources are trying (to put) pressure now. There is no question of it (resigning)," Srinivasan told reporters outside the Mumbai airport.
The 68-year-old cricket board chief, who has been facing mounting pressure to quit, said BCCI would follow strictly all its rules and law will take its course.
However, sources in the BCCI say that a section of the Board may be grouping up against the beleaguered chief and seek his suspension if not immediate removal following the embarrassing arrest of his son-in-law by Mumbai Police on charges of betting on IPL games.
Friday night's arrest and a litany of accusations of conflict of interest against Srinivasan over the years have pushed him to a corner though he is defiant despite the latest developments.
Sources said some Board officials are planning to initiate the process to oust him by at least getting him suspended. Some would prefer to replace him by former BCCI President Shashank Manohar, who has a clean image as an interim arrangement.
Some other names including former Shivlal Yadav, representing Hyderabad Cricket Association, are being mentioned as possible replacement.
The move may gather steam after the IPL final in Kolkata on Sunday where the BCCI officials could meet informally to discuss the situation. They may also talk to Srinivasan who is expected in Kolkata in a bid to persuade him to choose an honourable exit route.
The term of Srinivasan ends in September this year and under an amended rule he can continue till next year September. But under the present circumstances, such a scenario looks far from remote.
Top BCCI sources said Srinivasan has given no indications of resigning as yet though such a possibility cannot be ruled out in the present context.
Meanwhile, Gurunath's arrest has raised questions over the continuance of Chennai Super Kings but as yet there seems to be no threat to the team playing the final.
Sources said right now there was no such proposal, including scrapping the franchise of CSK since the charges against Gurunath have been levelled by the police and are yet to be scrutinised by judiciary.
Meanwhile, Gurunath has been produced in a court for remand proceedings.
Photograph: Ritam Banerjee/Getty Images
Also Read
'IPL final on schedule, no threat to CSK for now'
Will CSK overcome controversy and Mumbai?
BCCI mulls over suspending Srinivasan if he doesn't resign