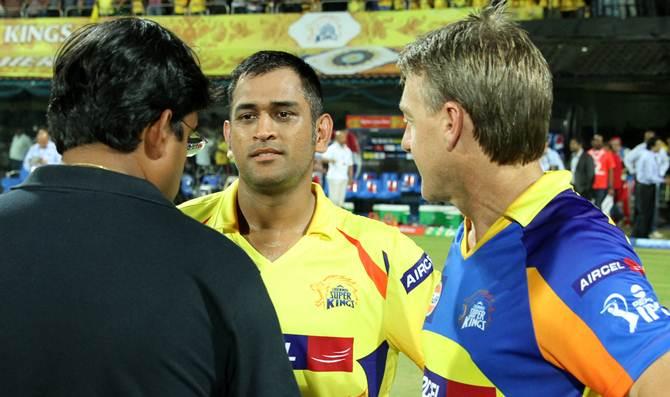 Chennai Super Kings captain Mahendra Singh Dhoni (centre) with bowling coach Andy Bichel and Gurunath Meiyappan. Photograph: BCCI
Refusing to speak about Mahendra Singh Dhoni's role in his company, India Cements, Narayanaswami Srinivasan, the Board of Control for Cricket in India's president-in-exile, made it clear that India's captain would not be asked to resign despite questions about conflict of interest being raised against him.
Srinivasan, who is also chairman of the ICC, declined comment on the IPL spot-fixing scandal case, which is being heard in the Supreme Court after the Justice Mudgal Committee submitted its probe report on the matter.
"The matter is in the court. I cannot speak on this," Srinivasan told reporters on the sidelines of an ICC function in Chennai on Monday.
The Tamil Nadu strongman was even more evasive when it came to answering questions on Dhoni, who is an said to be an employee of India Cements besides being captain of IPL franchise Chennai Super Kings, which is owned by the company.
The Supreme Court has made scathing comments on the issue of conflict of interest in the case of both Dhoni and Srinivasan.
"Why should I ask him to resign?" Srinivasan shot back, when asked whether Dhoni would be asked to step down.
Asked what is Dhoni's role in India Cements, he replied: "Why should I tell you."
The beleaguered administrator is under immense pressure to give up his position in the BCCI in the wake of the Mudgal Committee's observations on his role in the spot-fixing and betting scandal.
The committee, while giving a clean chit to him personally, observed that he indeed turned a blind eye to the wrongdoings in the league.