BCCI's Anti-Corruption and Security Unit (ACSU) chief Ravi Sawani, on Sunday, met a Chennai Super Kings official in Kolkata and inquired about Gurunath Meiyappan's role with the team.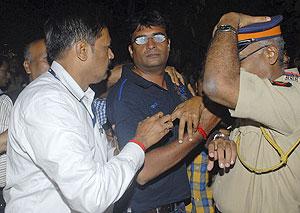 According to sources, just before start of the IPL 6 final between Mumbai Indians and CSK, Sawani met Chennai team manager Russel Radhakrishnan and spoke at length about Meiyappan's role and involvement with the team.
However, there was no official confirmation or comment from both the side.
Meiyappan, a top official of CSK and son-in-law of BCCI president N Srinivasan, was arrested by Mumbai Police on Friday on charges of cheating, forgery and fraud.
Meiyappan had been accused of involving in betting in IPL matches. He is also reported to have links with bookies.
Photograph: Reuters