Mumbai Indians opener Dwayne Smith was on Saturday fined 10 pre cent of his match fee for breaching the IPL Code of Conduct during the Qualifier 2 match against Rajasthan Royals in Kolkata on Friday.
-PHOTOS: Mumbai prevail over Rajasthan to enter final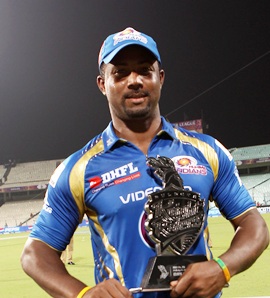 The incident related to 13th over of the Mumbai innings when Smith, while running between the wickets, collided with fast bowler James Faulnker.
Match referee found that it was deliberate on the part of the West Indies batsman.
"Smith admitted to the Level 1 offence (Article 2.1.8) of conduct contrary to the spirit of the game," an IPL release said.
For Level 1 breaches of the IPL Code of Conduct, the
Match Referee's decision is final and binding.
Photograph: BCCI