Sri Lanka Premier League denied Vindoo Dara Singh's claims that two bookies had owned one of the franchises of the SLPL, which conducted its inaugural edition last year.
"No such names figure in the list of SLPL franchise owners," Ajith Jayasekera, the SLPL chief executive officer, told reporters reacting to Vindoo's claims that two bookies named Sanjay and Pawan are the benami owners of one of the franchises in the SLPL.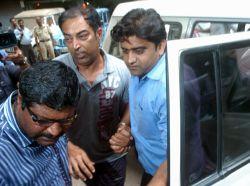 After the seven-franchise tournament ran into problems in 2011 with the BCCI not permitting the Indian players to take part in the tournament, the first edition, which was to be held the same year, was stalled.
This year's edition will commence on August 3.
Around 55 foreign players took part in last year's edition, but there were no participants from India and England.
Photograph: Arun Patil