Despite being ignored by the Ranji squad, Saurashtra's hard-hitting batsman Kuldeep Raval has shown perseverance and his talent is set to come to the fore for the Delhi Daredevils, writes Haresh Pandya.
Along with England's Kevin Pietersen, Delhi Daredevils have signed Saurashtra's Kuldeep Raval, for the fifth IPL season. It is at once a tribute to Raval's talent and a just reward for his growing reputation as a savage striker of the ball.
"Raval fits into the team's scheme of things well since he has the game and the temperament to be an impact player in the middle-order," said Delhi Daredevils' mentor TA Shekar.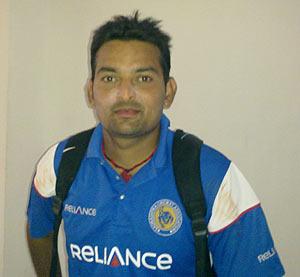 On being signed by Daredevils Kuldeep Raval told Rediff.com, "I'm obviously very happy and excited about being signed by Delhi Daredevils. It will be great playing alongside players I've grown up idolising. If given a chance in the playing XI, I'll try my utmost to justify their confidence in me and my ability."
A dynamic right-hand batsman who loves to tear apart any attack, Rawal is fast becoming Saurashtra's hot property. Those who watched Raval's explosive 60 off just 49 balls with 6 fours and 3 sixes against Baroda in the Swarnim Gujarat Reliance G-1 Tournament in Rajkot in February must have understood why Delhi Daredevils have shown keen interest in him.
It was the same Raval who had set ablaze the field at Rajkot last October with a couple of explosive innings in the West Zone Syed Mushtaq Ali Trophy Twenty20 competition. His hurricane 58 not out (26b, 4x4, 4x6) on debut against Maharashtra went a long way towards Saurashtra winning by 8 runs. This was followed by 12 (4b, 2x6) against Mumbai, 34 (21b, 1x4, 3x6) versus Baroda and 83 (41b, 9x4, 5x6) against Gujarat.
Surprisingly, even ironically, there was no place for Raval in the Ranji Trophy team even after his consistently impressive performance in the latest and shortest format just before the start of India's national cricket championship. It was Saurashtra's loss, more than Raval's, as the team, often let down by batsmen, did not perform up to expectations.
Born in the erstwhile princely state of Muli in Surendranagar district on November 30, 1985, Raval has had no formal coaching. It is not surprising that there is more madness than method to his batting. But it has worked in his favour more often than not. He is a natural striker of the ball. "Of course, I love to attack. But I can defend, too, if and when required," he says. "I've no problem facing both fast and spin bowlers."
The unassuming Raval first came into the limelight early last year during the inaugural Swarnim Gujarat Reliance G-1 Tournament. Chasing Gujarat's score of 268 for 9 in the final at Sardar Patel Gujarat Stadium in Motera, Ahmedabad, Saurashtra were precariously placed at 140 for 5 when Raval walked in. Without allowing the pressure to get the better of him, he batted with naked aggression and scored 66 not out (44b, 10x4, 1x6) and ensured that Saurashtra became champions.
Raval just relishes smashing the cherry with his trademark lusty pulls and lofted shots. The right-hander packs awesome power in his strokes and it is almost impossible for any bowler to stop this juggernaut once he starts rolling. Rawal has proved from time to time that he can change the complexion of any match with his brutal hitting all round the wicket.
One of the four sons of a retired school principal, Raval is a strongly-built right-hand batsman who bowls left-arm orthodox spin. Like most youngsters of his generation, Raval's "all-time" favourite cricketer is Sachin Tendulkar. "Although I adore Tendulkar, I admire any batsman who plays attackingly in pressure-cooker situations," he adds.
Raval is married and has a little son. He was "jobless" until recently and hence the Delhi Daredevils contract is "most welcome". Besides proving his worth in the IPL, Raval's "immediate ambition" is to make his first-class debut "as early as possible".
For the perseverance and patience shown, Raval needs a pat on his back -- for what he is and what he has achieved -- and a warm good-luck wish.
Indian Premier League 2012: Complete Coverage of fifth season of IPL