Rajasthan Royals skipper Rahul Dravid blamed the seven-wicket loss to Pune Warriors on the batting collapse in the second part of their innings but vowed to bounce back in the IPL.
- IPL PHOTOS: Pune Warriors vs Rajasthan Royals, Match 13
"We just kept losing wicket and that cost us dear. Just when we thought we could accelerate, we lost Ajinkya Rahane, we lost (Stuart) Binny and then I got out myself. We lost wickets at crucial times and we could not kicked off for a bigger total," Dravid said on Thursday.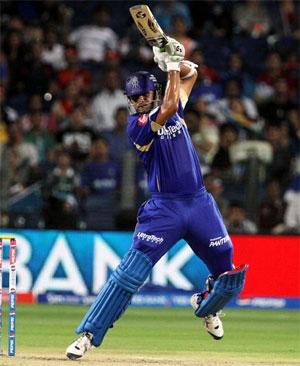 The Royals were going strong at 81 for one in the 12th over before being reduced to 106 for five in the 16th over to end their innings at 145 for five.
"Maybe we were 15 runs short but the way they batted, even that might not have been enough. We have seen (Aaron) Finch before, we discussed him," he said about the Warriors opener who hit 64 off 53 balls to guide his side to victory.
Dravid conceded that the Warriors have some big hitters in their ranks and little could be done once they came off firing.
"They have plenty of power-hitters in the team -- Finch, Robin Uthappa, Ross Taylor and Yuvraj Singh -- and if they come off, it is difficult for us to do anything. Someday, some of them would have to come off firing and they did today and there's little we could have done," he added.
The former India skipper, however, said it was early days in the tournament and his side would bounce back.
"We need to look to keep improving, look to forget this match and kick on. We can do that and it's early days in the tournament, we have the side to come back," Dravid said.
Warriors captain Angelo Mathews attributed the victory to team effort.
"We needed a win badly, to be honest. We were pretty good in the field, the bowlers did an amazing job to restrict the opposition to 145 for five. The approach totally changed in the batting," he said.
Asked about the team's decision to field Finch in place of Manish Pandey, Mathews said, "We backed Finch and he did a brilliant job, we were a bit cautious before."
Man-of-the-Match Finch said he was happy to have played his role in the victory.
"It was nice, we knew we had to get off to a good start, the wicket gets a bit slower and lower as the ball gets older. Credit goes to (Robin) Uthappa, his 32 off 16 really set us up.
"Today was our day, it was nice to get away with it. I thought our bowlers did a great job to restrict them after that partnership between Rahul and Rahane."
Photograph: BCCI