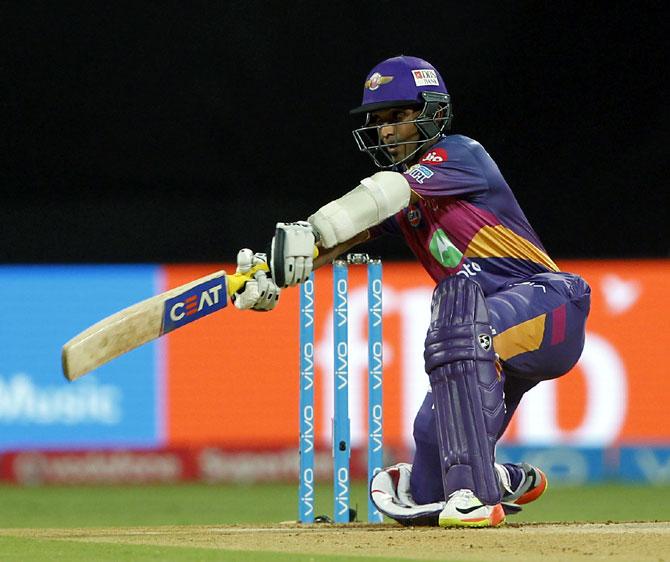 IMAGE: Rising Pune Supergiant's Ajinkya Rahane bats. Photograph: BCCI
He might not be scoring big runs in the ongoing 10th edition of the Indian Premier League, but Rising Pune Supergiant opener Ajinkya Rahane is a contented man as long as his contributions are bringing out positive results for his side.
On Monday, Rising Pune Supergiant halted Mumbai Indians' winning streak by clinching a three-run win in a thriller of a contest at the Wankhede stadium.
Rahane has so far hit only one fifty (60 off 48 balls) in the ongoing IPL, that came in the lung opener against Sunrisers Hyderabad on April 5.
Thereafter, Rahane's bat went silent but the right-hander said he satisfied with his personal form.
"I am happy the way I am batting at the moment. It is important to spend time in the middle. Right now the way I am middling and timing the ball, I am really happy. As long as we are winning matches I am happy because that is important," Rahane said at the post-match press conference on Monday.
"Switching from Test to T20 format is about mental adjustment and I did that completely well," he said.
The final over also witnessed a heated conversation between Mumbai Indians skipper Rohit Sharma and on-field umpire S Ravi.
Having seen Rohit shuffle across the stumps, Unadkat pushed the third delivery of the over wide and Rohit, realising that the ball was veering away from the guideline for wide deliveries, left it alone.
But umpire Ravi didn't call it a wide that infuriated Rohit and he started arguing with Ravi forcing the square-leg umpire A Nand Kishore to intervene.
Asked about the issue, Rahane said, "That was a right call by the umpire. As a batsman when you move and if the bowler bowls outside that area goes to the bowler. Rohit's behaviour at that point was natural. Somewhere as a captain, as a player you feel when the match is so close. I don't think there was any fault in Rohit's behaviour."
"That happens on the field and remains on the field, it is part and parcel of the game. It will also happen in future, but you should respect the umpire's decision."