N Srinivasan may have put up a brave face by outrightly rejecting demands for his resignation but Union minister for Parliamentary Affairs Kamal Nath feels that the Tamil Nadu strongman's position has become "untenable."
Pressure has been mounting for Srinivasan's resignation ever since his son-in-law Gurunath Meiyappan's name surfaced in IPL betting and led to his arrest on Friday by Mumbai police.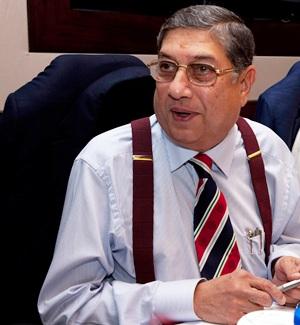 "It's absolutely untenable, is there an iota of credibility left. With this scandal breaking out and all the evidence emerging, his position has become untenable, he should go," Kamal Nath said.
Asked if he was speaking on behalf of the government he said, he was speaking as a "cricket lover".
Cricketer-turned politician Kirti Azad said," I don't know resignation or no resignation. How many resignations you will take? I had raised this issue of accountability and responsibility even last year but people laughed at me. I am happy that I stand vindicated."
Former BCCI Secretary Jayawant Lele said Srinivasan "should not wait even for 10 minutes and resign immediately."
Srinivasan though said he has done "no wrong" and he cannot be "bulldozed" into resignation.
Photograph: Jack Dabaghian/Getty Images