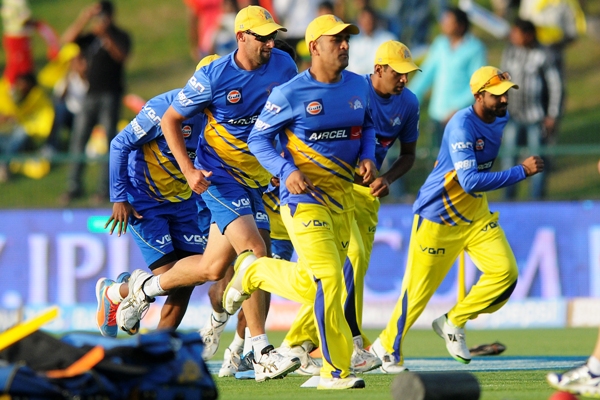 IMAGE: MS Dhoni, Ravindra Jadeja and R Ashwin during a training session. Photograph: BCCI
India's limited-overs captain Mahendra Singh Dhoni emerged the top draw in the Indian Premier League Player draft in Mumbai on Tuesday, with Pune, the Sanjeev Goenka-owned new franchise, opting to pick him first for the stipulated price of Rs 12.5 crore.
Dhoni's India teammate Suresh Raina was the first preference for the other new team, Rajkot, which is owned by Intex Mobiles.
He will also get an identical Rs 12.5 crore by virtue of being the first player selected by the franchise.
In-form India batsman Ajinkya Rahane was the second choice for Pune, while Rajkot opted for Ravindra Jadeja.
Both players are entitled to a purse of Rs 9.5 crore per year.
The next edition of the Twenty20 league will be held from April 9 to May 29.
Check out how the bidding went.
1st Pick: Rs 12. 5 crore
Pune: Mahendra Singh Dhoni
Rajkot: Suresh Raina
2nd Pick: Rs 9.5 crore
Pune: Ajinkya Rahane
Rajkot: Ravindra Jadeja
3rd Pick: Rs 7.5 crore
Pune: Ravichandran Ashwin
Rajkot: Brendon McCullum (Overseas)
4th Pick: Rs 5.5 crore
Pune: Steve Smith (Overseas)
Rajkot: James Faulkner (Overseas)
5th Pick: Rs 4 crore
Pune: Faf du Plessis (Overseas)
Rajkot: Dwayne Bravo (Overseas)
- Also read:
- 'We want to build our brand and Dhoni was an automatic choice'