All-rounder Jacques Kallis is optimistic about defending champions Kolkata Knight Riders' chances of reaching the Pepsi IPL semifinals even though they are languishing in the lower half of the points table.
Also Read
-SRK regrets getting into a brawl at Wankhede
-No harsh words exchanged with Dravid: Gambhir
-IPL PHOTOS: Kolkata Knight Riders vs Rajasthan Royals
-IPL: Kolkata thrash Rajasthan to keep hopes alive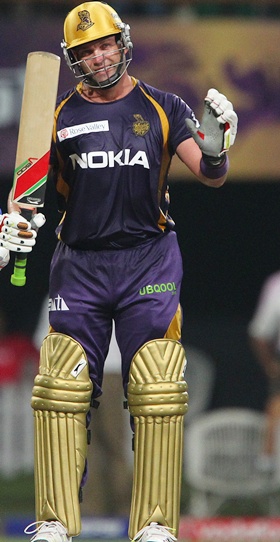 With just four wins from 11 games, KKR are presently lying seventh in the nine-team competition.
"The guys were always motivated and we have always applied ourselves, but unfortunately we were not winning games. We have not played as bad as people think this season," he said.
"We just lost a few close games that could have turned our season around, but it is important to do what we are doing at the moment; that is focus on winning games.
"Who knows, if we still win all our remaining games, the semis are still in our grasp. Our first aim though, is to qualify for the Play Offs and then take it from there," Kallis added.
Kallis (33 off 30) played a key role in KKR's win over Rajasthan Royals last night by sharing an unbroken 78-run stand for the third wicket with Yusuf Pathan, who returned to form scoring unbeaten 49 runs off 35 balls.
"It is indeed a good win to have under the belt. The pressure was on us to perform and I feel the guys delivered. We spoke about playing smart cricket and we were terrific with both bat and ball. We backed ourselves and I guess it showed on the field," Kallis said.
The South African also lauded Yusuf and said the big-hitting Baroda batsman is vital to KKR's scheme of things.
"Yusuf batted brilliantly. To strike a ball as well as he did on a wicket like that is commendable. That is the reason why Pathan is so important in our squad," Kallis said.
"It is good to see that he has got his confidence back towards the end of the season; probably the perfect timing for us and hope he helps us to win a few more games."
Photograph: BCCI