Images from Thursday's IPL match between Delhi Capitals and Rajasthan Royals, in Mumbai.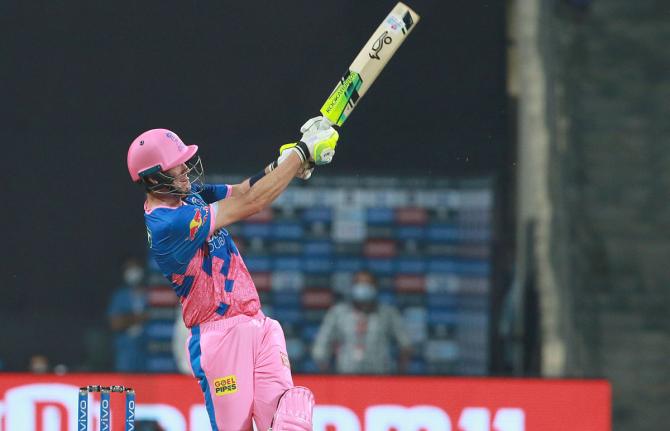 Chris Morris produced a stunning counter-attack in the last two overs to take Rajasthan Royals to victory over Delhi Capitals from the brink of defeat in the IPL match, at the Wankhede stadium, in Mumbai, on Thursday.
The South African all-rounder scored an unbeaten 36 from 18 balls, hitting four sixes from the last 10 balls he faced, as the Royals won by three wickets, with two balls to spare, for their first victory in two matches.
His blistering knock came at the fag end of the innings, as defeat loomed after fellow-South African David Miller produced a combative knock of 62 runs to rally Rajasthan Royals from a precarious 42 for 5 at one stage.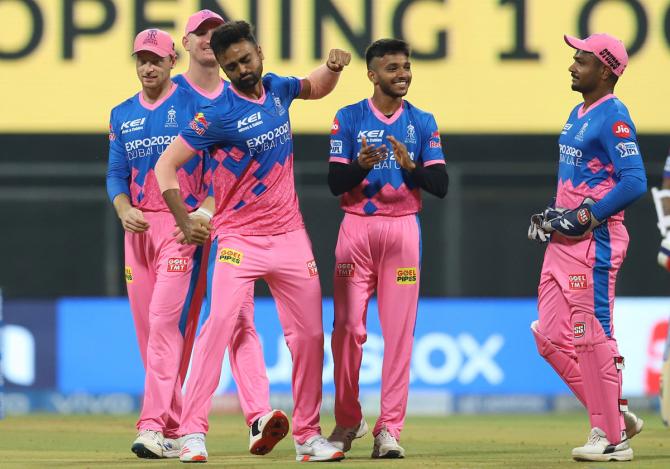 Earlier, pacer Jaydev Unadkat delivered a brilliant three-wicket burst early on to enable the Royals restrict Delhi Capitals to 147 for 8.
Unadkat dismissed Delhi Capitals's top three -- Prithvi Shaw, Shikhar Dhawan and Ajinkya Rahane -- to trigger a collapse from which they never recovered. He finished with three wickets for 15 from his four overs.
Had captain Rishabh Pant not come up with a gritty, blistering 32-ball 51, which was studded with nine fours, Delhi's plight would have been worse.
Rajasthan Royals captain Sanju Samson won the toss and elected to bowl.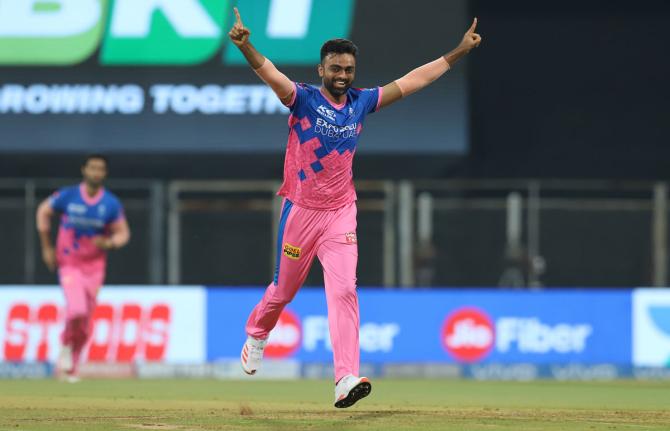 Royals made two changes, David Miller replacing the injured Ben Stokes, who has been ruled out of the remainder of the tournament after sustaining a broken finger in the previous match against Punjab Kings, while Jaydev Unadkat came in for the rested Shreyas Gopal.
Delhi also made a couple of changes, Kagiso Rabada coming in for Shimron Hetmyer, and Lalit Yadav, replacing Amit Mishra and making his debut.
Delhi opened with Dhawan and Shaw, who put on a 138-run opening partnership as the team made short work of Chennai Super Kings' competitive 188 for 7 in their opening match.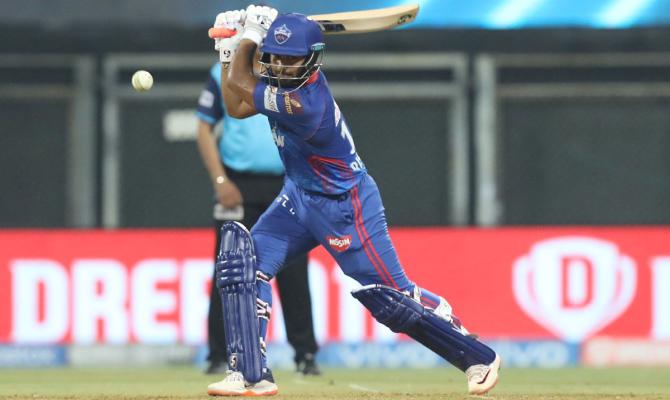 However, Shaw, who scored 72 off 38 balls, was out to the last delivery of the second over, bowled by Jaidev Unadat, caught at point by David Miller for 2.
The batsman looked to flick Unadkat through the leg side but was deceived by the slower ball and got a leading edge, which went to Miller on the off-side.
Delhi Capitals were 5 for 1 after two overs.
Dhawan, who scored 85 off 54 balls against CSK also perished early.
Unadkat struck again. Dhawan walked across and tried to scoop it fine behind, but wicketkeeper Samson pulled off a sensational acrobatic catch, flinging himself to his right.
Dhawan was out for 9 and Delhi reduced to 12 for 1 in the fourth over.
Delhi Capitals had a new pair in Ajinkya Rahane and Rishabh Pant at the crease in the fifth over and the onus was on the experienced duo to get the innings up and kicking.
However, Unadkat dealt another blow to their fortunes, dismissing senior pro Rahane, who was done in by the slower delivery as he offered a simple return catch back to the bowler.
Unadkat had taken three wickets in his first three overs, leaving Delhi reeling on 36 for 3 in the sixth over.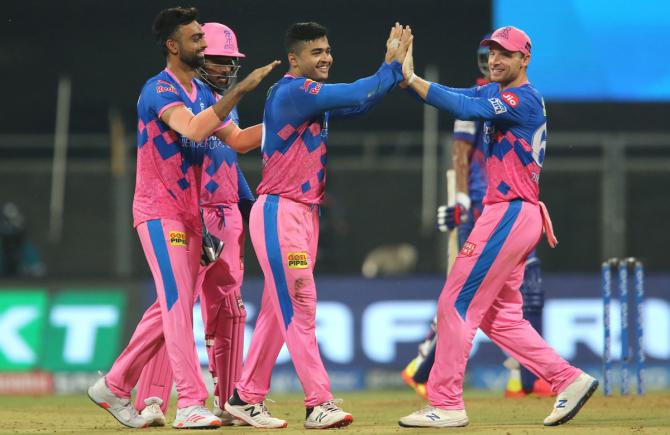 Delhi's plight got worse when Mustafizur Rahman dismissed Marcus Stoinis for a duck. He angled the delivery across the right-hander, who poked at it and was caught by Jos Buttler on he off side.
Delhi were 37 for 4 in the seventh over.
Pant kept the scoreboard ticking and took Delhi to 56 for 4 at the half-way mark as Unadkat finished his spell of four overs with wonderful figures of 3-15.
Meanwhile, Pant brought up his 50 off 30 balls, crashing Mustafizur for a four past point.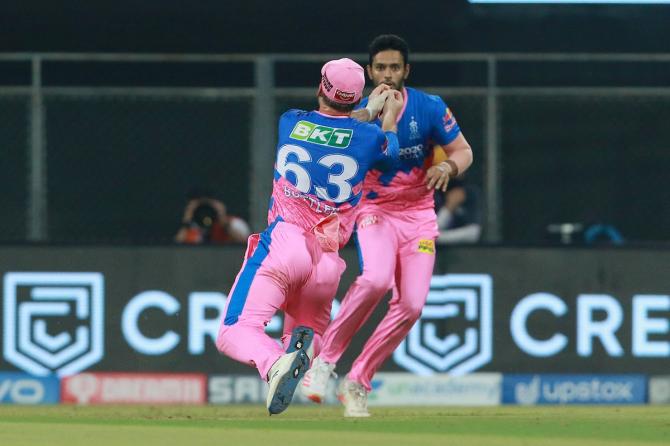 However, he was run-out going for a tight single. He tapped the fourth delivery from Riyan Parag on the leg side and set out for a quick run, but Parag did well to run to his left and break the stumps with a direct hit.
It was a huge blow for Delhi Capitals as Pant had revived the innings with a breezy 51 off 31 balls.
Delhi were 88 for 5 in the 13th over.
Delhi's 100 came up in the 15th over before Lalit Yadav, who played a huge part with Pant in steadying the innings, departed for 20 off 24 balls.
Looking to loft Chris Morris down the ground he failed to get the distance as Rahul Tewatia took a good catch running back from mid-on.
Delhi were reduced to 100 for 6 in the 15th over.
Tom Curran and Chris Woakes came up with useful knocks of 21 and 15 respectively last in the innings as the Capitals finished with 147 for 8.
Rajasthan Royals opened with a new pair in Manan Vohra and Jos Buttler, while Chris Woakes bowled the first over for Delhi Capitals. And their start was as disastrous as that of the Capitals earlier on.
Chris Woakes dealt Rajasthan Royals the first blow, dismissing Vohra, who holed out to Kagiso Rabada at long-on after scoring 9.
The Royals were 13 for 1 after four deliveries in the third over and it got worse when Woakes picked his second wicket at the same score two balls later.
Buttler got an inside edge and Rishabh Pant took a stunning catch, diving full length to his left.
In walked Sanju Samson, fresh from the century in the previous match. He flicked Rabada's first ball through midwicket for a four. However, the outh Africa pacer had the last laugh.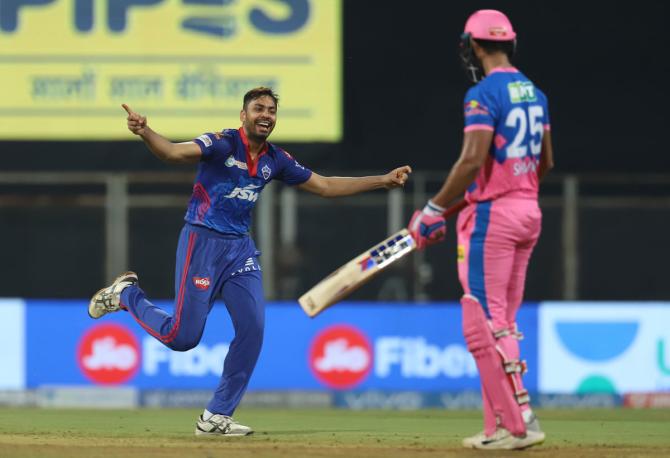 Samson, looking to play the drive through the covers, got the edge as the ball moved away and as Dhawan took a good catch at slips.
Samson was out for 4 and with Royals reeling on 17 for 3 in the fourth over.
Rajasthan were struggling at 26-3 in six overs. Things got worse for the Royals as Shivam Dube got the edge from Avesh Khan and was caught at slips by Dhawan for 2.
They were reeling on 36 for 4 in the eighth over with all their top batsmen back in the hut. The onus was now on the experienced David Miller (17) to bail them out of trouble.
Avesh struck again in his third over. Riyan Parag was deceived by the change of pace and he miscued the slower ball on the off-side, where Dhawan took the catch. He was out for 2 and Rajasthan 42-5 after 9.2 overs.
Tewatia was next to depart. He was beaten by Rabada's extra pace as he tried the pull shot, did not hit cleanly and Yadav took the catch at mid-wicket.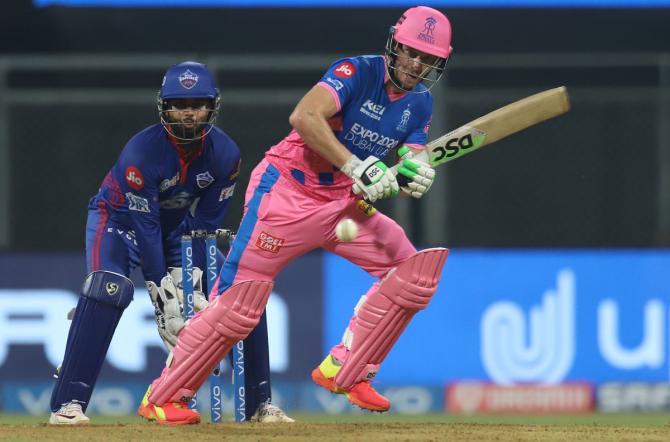 Royals were 90 for 6 after 15 overs, with another 58 needed from five for victory.
But Miller was not done, yet. He brought up his 50 off 40 balls with a towering six off Avesh, the first of the match in the 36th over, and followed it up with another two balls later to take Royals past the 100-run mark and keep their hopes alive.
However, Avesh extracted a measure of revenge as Miller went for a third six. He lofted Avesh down the ground but failed to get the distance and was caught at long-on after a good innings of 62 from 43 balls.
Royals need 43 from 4 overs for victory with just three wickets in hand.
It could have been eight down but Jaydev Unadkat got a lifeline as wicketkeeper Pant missed an easy run-out opportunity. Chris Morris clipped Curran to midwicket and decided on the second run initially before changing his mind. Unadkat was struggling to make his crease after being sent back halfway down, but Pant broke the stumps without collecting the ball.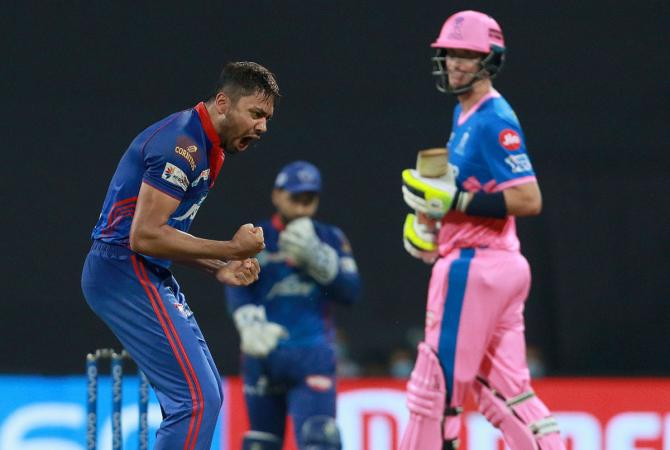 Curran goes for seven in the 18th over and Royals needed 27 from the last 2 overs for victory.
Rabada bowled the 19th over and Morris swung the first ball over midwicket for a six. Morris again picked the length ball from Rabada off his pads and sent it over the fine leg fence for the second six of the over. He did well to keep strike, with Royals needing 12 from the last over for victory.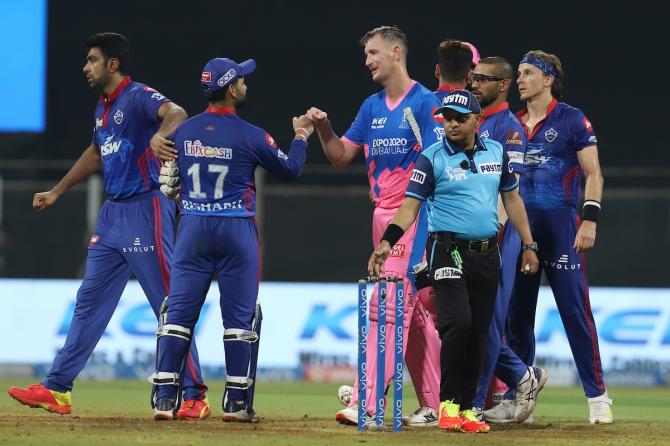 Curran was handed the responsibility of bowling the final over. Morris hit the first ball through the covers for two runs. The next was the back of the hand slower one pitched halfway down and Morris pulled it over square leg for a six.
Royals now needed 4 from 4 balls for victory. Morris mashes the third delivery but couldn't get it past Dhawan in the covers.
Curran the bowled a full toss and Morris sent it over the square leg fence for a six to earn Royals a superb victory.
Royals won by three wickets with two balls to spare.