The pitch at the Wankhede Stadium for the current IPL edition came under the scanner again when Mumbai Indians 'keeper- batsman Dinesh Karthik compared the conditions to a Test match after they slumped to a nine-wicket defeat against Royal Challengers Bangalore.
"There was a lot in it initially. The ball was seaming around a lot. It was a little damp. It was a bit like a Test match. It was a question of survival in the first 4-5 overs," said Karthik, who top-scored for the hosts with a well-made 44 in 39 balls.
- Gayle stars in Bangalore's rout of MI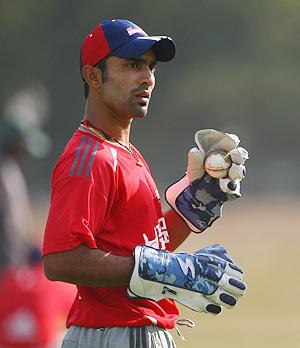 Before Karthik, MI captain Harbhajan Singh and Rohit Sharma had also questioned the tracks prepared at the Wankhede. Rohit had even went to the extent of comparing the track prepared for an earlier game to the bouncy Perth wicket in Australia.
MI slid to two for two before recovering to score 141 for six but the total was not enough as a rampaging Chris Gayle blasted his way to an unbeaten 82 off 59 balls to pilot his team home.
While crediting RCB bowlers for utilising the pitch well, Karthik said that a better wicket would have seen his batsmen compiling a bigger score.
"Credit to their bowlers, who bowled well. If it does a lot off the wicket, it is very tough to play shots. We couldn't get off to a start which is generally the case in T20. Even when they batted there was a bit in it for the new ball bowlers. They were taking their time and could not play their shots initially. But the wicket had a lot more in it when we batted, no doubt about it," he said. Karthik defended the team's decision to leave out Munaf Patel and include left arm spinner Pragyan Ojha in his place. Ojha was taken to the cleaners in the two overs he bowled in which he gave away 25 runs and took one wicket.
"When you play Pollard and Dwayne Smith there are two seamers there as well. You need that extra spinning option, otherwise you would not have any options at all. Once you get Chris Gayle out there are a lot of right handers in their line up and I am sure Ojha could have played a bigger part."
Karthik said to stop a batsman like Gayle early on, catches offered needed to be taken which was not the case.
Another Caribbean player Dwayne Smith had dropped a swirling catch early in the Gayle's innings.
"You have to take your catches. There was one catch there for us which could have meant a lot. As a team if we get that wicket and another wicket and we are on a roll there. Those sort of things really matter in T20. When a guy like that gets even mishits it goes out of the park. It can be tough for a bowler to bowl," said the wicket keeper.
Karthik said the team, which remained at third spot on the league table after the defeat with 14 points and three games left, would need to introspect.
"Definitely there are areas where we can get better as a team and these are the things we will be looking at in the next couple of games," he said optimistically.