Refusing to put the blame only on the openers for the team's batting woes in the ongoing Indian Premier League, Mumbai Indians coach Robin Singh said that every batsman must take responsibility for the failure.
In the absence of Sachin Tendulkar, after the opening game against defending champions Chennai Super Kings on April 4, Mumbai Indians have used South Africa's Richard Levi at one end to open the innings with different partners -- T Suman, Ambati Rayudu and Davy Jacobs -- but all these make-shift combination have misfired.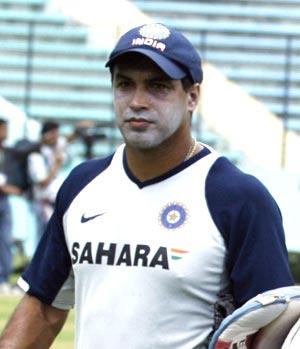 "It's not just about the openers. We have 20 overs to bat and we have a deep batting line up. As openers we will play shot, that's the format of the game, first six overs we will try to maximise," Robin Singh said on Saturday.
"It will appear a high-risk game to most players. It depends on how we execute and not just about one guy," he added.
The coach also said the players know that they would have to step up their batting.
"We have not batted as well as we can. We certainly have to step up when it comes to batting. Everyone is very much aware of that. We just couldn't play good cricket, couldn't chase 129 (against Pune Warriors on April 6). We got out for 92 (against Delhi Daredevils)," said Robin.
Out of five games so far, MI have lost two, significantly both at home, mainly because of batting failures on a turning track against the Warriors and a bouncy pitch against the Daredevils.
"There's no excuse. However badly we play, we should not be getting out for those low scores with the sort of batting line-up we have," insisted Robin.
Defending the team management's decision to opt for wicketkeeper-batsman Jacobs ahead of seasoned South African Herschelle Gibbs, who is yet to get a look-in, Robin said the former was chosen on the basis of his performances in the practice games.
"We played a few practice games and he got quite a few good scores under his belt, so we felt he was the right man for the job. At the end of the day he did not perform but the defeat was not caused because of one man (failure). We got out for 90 runs," he said.
Robin said the team is still looking for the best combination to field.
"We would like to see the best combination that we could field. This game is all about flexibility. If we feel 'X' is the right person for the job, we will use 'X'.  As I said we have a lot of openers, we will have to wait and see."
Robin, meanwhile, applauded the big breaks that the Mumbai outfit got after their April 11 match and felt it rejuvenated the team.
"A break is always good. Every team has a break, that's how the format has been structured. As a matter of fact it will rejuvenate you," he said.
After April 11, when they clashed with Rajasthan Royals, Mumbai took on Delhi Daredevils on April 16 and had a five-day rest before tomorrow's match against Punjab.
Kings XI Punjab, on the other hand, cancelled their practice on Saturday as they played and lost against the Royal Challengers Bangalore in Friday in a game that went down to the wire.