Suspended cricketer S Sreesanth on Tuesday moved fresh bail application before a Delhi court after the police invoked stringent MCOCA against him and others in the IPL spot-fixing scandal.
Additional Sessions Judge Sanjiv Jain issued notice to the police seeking its reply on the application and fixed the same for hearing on June 7.
- Underworld don Dawood's name surfaces in IPL spot-fixing scam
In the bail plea, Sreesanth said, "By no stretch of imagination can MCOCA be invoked against him as there is no evidence to link him with spot-fixing."
Earlier during the day, his counsel withdrew the application pending before a magisterial court which would not hear the same after invocation of MCOCA.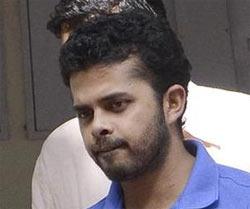 Sreesanth in his fresh bail plea said he has been implicated in the case and even when he was in police custody, the probe agency was not able to recover any evidence against him or recover anything at his instance.
He said allegations against him are false and fabricated and he has never indulged in any spot-fixing and has always upheld the tradition and spirit of the game.
He also said there is no conversation between him and any bookie prior to the match in question and no amount was given to him by any conduit.
Sreesanth's friend and alleged bookie Jiju Janardhan also moved a fresh bail plea.
Bookie Ashwini Aggarwal, who the police said was in touch with people based abroad in the fixing scandal, also moved bail plea saying the contents of FIR registered against him are "presumptive in nature" and "the police has now invoked MCOCA against all the accused when it has not been able to collect any evidence to show its applicability."
The other accused persons who moved fresh bail applications are Mohd Yahya, Ajay Goel, Amit Gupta, Sunil Saxena, Sayed Durez Ahmed, Kiran Dhole, Dipit Garg and Ramakant Vyas.
All the bail pleas will now come up for hearing on June 7.
According to the provisions of the Act, the confessions made before an officer of rank above Deputy Commissioner of Police are admissible as evidence in a court of law.
MCOCA was formulated in 1994 to tackle organised crime which abetted narco-terrorism and raised huge amount of illegal money.
Photograph: Reuters