Maintaining that their son is innocent, the parents of Shantakumaran Sreesanth, who is under arrest in the IPL spot-fixing scandal, on Wednesday declined to comment on the Delhi police invoking the stringent MCOCA provisions on their son.
"Sreesanth is innocent and we need the support of everyone," they told reporters in Kochi.
- Underworld don Dawood's name surfaces in IPL spot-fixing scam
Asked about the invoking of MCOCA on the tainted India pacer, they said they do not have anything to say on that.
The Maharashtra Control of Organised Crime Act (MCOCA) had been imposed by Delhi police on Sreesanth, Ajit Chandila, Ankeet Chavan and 23 others who have been arrested in the IPL spot-fixing scandal.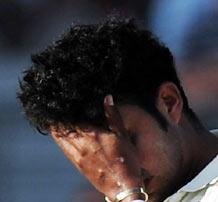 Sreesanth and Chandila are lodged in Tihar jail in Delhi while Chavan has been granted interim bail for his marriage.
The accused face a maximum sentence of life imprisonment along with fine of Rs 5 lakh under section 3 of MCOCA, while the jail term can go upto ten years along with fine of Rs one lakh and properties of the accused can also be attached under section 4 of the Act.
Sreesanth on Tuesday moved fresh bail application before a Delhi court after the police invoked stringent MCOCA against him and others in the IPL spot-fixing scandal.
Additional Sessions Judge Sanjiv Jain issued notice to the police seeking its reply on the application and fixed the same for hearing on June 7.
According to the provisions of the Act, the confessions made before an officer of rank above Deputy Commissioner of Police are admissible as evidence in a court of law.
MCOCA was formulated in 1994 to tackle organised crime which abetted narco-terrorism and raised huge amount of illegal money.
Photograph: Shaun Botterill/Getty Images