The CCTV footage of a five-star hotel in Chandigarh on May 9, when Rajasthan Royals beat Kings XI Punjab in a IPL T20 match, shows disgraced players S Sreesanth and Ankeet Chavan virtually awake all night walking the hotel's corridor outside their room.
The footage shows Sreesanth and Chavan meeting bookie Jiju Janardhan and exchanging some packets, and two young women can also be seen at different times with them.
- IPL spot-fixing: Three more players involved?
Rajasthan Royals had played an afternoon game against KXIP at the PCA stadium in Mohali and before 9 pm local time on May 9, the players of both the teams had returned to the hotel.
According to the footage shown by some TV channels on Sunday, which has been procured by Delhi Police investigating the spot-fixing scandal, the tainted players are seeing moving around outside their hotel room for long periods of time.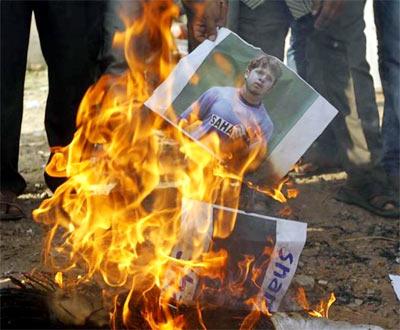 From 1015 pm on May 9 night till early morning of May 10, the players can be seen walking the corridor outside their rooms at different times and even pausing for a moment to glance at a man who crosses them in the dead of the night on one occasion as if they were taken by surprise on seeing him.
A packet is also seen being exchanged between Chavan and Sreesanth, who along with Janardhan meet a young woman wearing a black dress.
After Chavan, Sreesanth and the woman are seen leaving at around 11 pm, the Kerala pacer re-appears after around three hours, this time with another woman in tow, the footage shows.
The two players are seen going into a room and then appearing again in the early morning.
Meanwhile, sources said police was also looking at the footage of another hotel, located close to the five-star hotel where the teams were staying, to ascertain the movements of two alleged bookies who had booked rooms there on May 9 and May 10.
The Delhi Police is also making efforts to see if it could also get footage from the camera placed atop a tall street light pole, which was adjacent to that hotel, the sources said.
Photograph: Amit Dave/Reuters