Following the arrest of their own Gurunath Meiyappan for his alleged role in the IPL spot-fixing scandal, there are questions whether Chennai Super Kings should be allowed to play in Sunday's IPL final against Mumbai Indians in Kolkata.
If sources are to be believed, India Cements already knew that Meiyappan would be arrested. That's why, in a bid to save the team from getting the axe, they were quick in issuing a statement that N Srinivasan's son-in-law is not the owner or team principal of CSK. By doing so they limited the damage and saved the team.
- CSK owner Meiyappan arrested in IPL betting case
The 35-year-old Gurunath was summoned by the Mumbai police for questioning after actor Vindoo Dara Singh implicated him in betting. After being interrogated for three hours, he was arrested.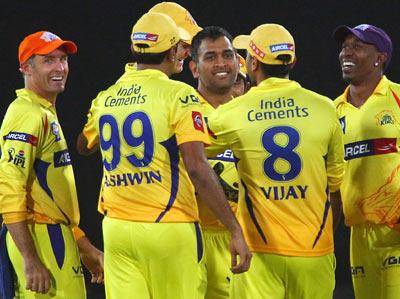 "We have interrogated Gurunath based on information we have. We have found his involvement in the offence related to IPL betting case. We have placed him under arrest," Joint Commissioner (Crime) of Mumbai Police Himanshu Roy said.
India Cements issued a statement earlier on Friday to clarify that Meiyappan is an honorary member of the management team and not the owner of Chennai Super Kings.
It read: "India Cements clarifies that Mr. Gurunath Meiyappan is neither the Owner, nor CEO /Team Principal of Chennai Super Kings. Mr. Gurunath is only one of the Members (Honorary) of the Management Team of Chennai Super Kings. India Cements follows zero tolerance policy and if anyone is proved guilty, strict action will be taken immediately. India Cements assures full co-operation with BCCI and the Law Enforcement authorities."
One of the clauses of the IPL franchisee agreement states a team can only be terminated if the owner is involved in any wrongdoings which affects the IPL.
"As per IPL contract 11.3 BCCI-IPL may terminate this agreement with immediate effect by written notice if: The franchisee, any franchisee group company and/or any Owner acts in any way which has a material adverse effect upon the reputation or standing of the league, BCCI-IPL, BCCI, the franchisee, the team (or any other team in the League) and/or the game of cricket," the clause states.
It will now be interesting to see whether the IPL Governing Council will accept this justification and allow Chennai to play the final or bar them for their owner's misdemenor.
Photograph: BCCI