Former Board of Control for Cricket in India (BCCI) president Inderjit Singh Bindra on Tuesday said that he had written a letter to current head of interim group Jagmohan Dalmiya ahead of the Working Committee meeting demanding suspension of controversial franchises Chennai Super Kings and Rajasthan Royals.
- BCCI meeting a sham, public taken for a ride: Bindra
"I had written to Jagmohan Dalmiya before the working committee meeting about suspending the two franchises. The issue was raised on the floor of Working Committee. Mr Dalmiya said that the role of the two franchises will be probed further and the matter is being looked into," Bindra said.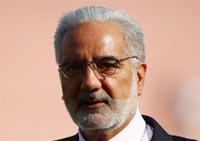 When asked about the issue of Mahendra Singh Dhoni's conflict of interest, Bindra answered: "There was no discussion regarding Mahendra Singh Dhoni during the working committee meeting."
The newly appointed BCCI treasurer Ravi Savant told a news channel that the board will shot off a letter to Dhoni on the issue but the veteran administrator wasn't amused.
"What is Savant's authority to speak in this matter? The treasurer is not supposed to make comments about the showcause notice. That is utter nonsense. And before you start bringing guilty cricketers to book, I think we need to also look at the role of the administrators," he fumed.
Photograph: Michael Steele/Getty Images