Suspended cricketer Ajit Chandila, arrested in the Indian Premier League spot-fixing case, was on Monday remanded to fresh police custody for three days by a Delhi court after the agency said he is required to corroborate evidence collected from other accused after invoking MCOCA.
"The matter is being investigated under the provision of Maharashtra Control of Organised Crime Act (MCOCA). The prosecution is to be given full chance to unearth the entire crime. The accused is remanded in 3-days of police custody," Additional Sessions Judge Ajay Kumar Jain said.
The court directed the special cell of Delhi police to produce Chandila before it on June 20.
Meanwhile, the court also deferred hearing on the bail application of Chandila and five others to June 22 after the police informed it that some vital confessional statements of the bookies arrested in the case have to be placed on record.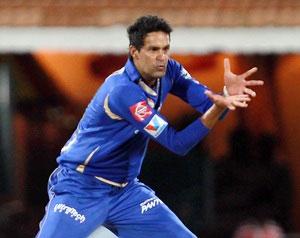 Confessional statement of arrested bookie Sunil Bhatia is being recorded, while that of Ramesh Vyas, another bookie, has already been recorded, the prosecution said.
Apart from Chandila, Bhatia and Vyas, the others whose bail pleas have been deferred to June 22 are bookies Ashwani Aggarwal and Deepak Kumar and ex-Ranji player Baburao Yadav.
During the hearing, senior public prosecutor Rajeev Mohan sought fresh five days police remand of Chandila saying that initially he was arrested in the case on May 16 and remained in police custody till May 28 after which he was remanded to judicial custody.
He further informed the court that MCOCA has been invoked against Chandila on June 3, therefore his custody is required to corroborate the evidence collected after invocation of the stringent penal law.
"For the purpose of investigating under MCOCA, accused Ajit Chandila is required. He is found to be one of the main conspirators and his presence is required to unearth the deep rooted conspiracy of the organised crime being operated by underworld don Dawood Ibrahim and his aide Chhota Shakeel," he said.
The prosecution in their application seeking Chandila's custody said, "During investigation, lot of supportive evidence like intercepted voice calls, two mobiles used by him (Chandila) in spot/match fixing and match fixing cash of Rs 20 lakhs...
"He was found receiving money from many bookies, fixers in lieu of spot fixing in the cricket match."
The bookies who were in direct contact with the underworld have given money to Chandila to fix the players, the prosecution claimed.
Chandila's remand was vehemently opposed by his counsel Rakesh Kumar who said that MCOCA was invoked on June 3 "to trap us and keep us behind the bars as the court was going to grant us bail on June 4".
Earlier, Delhi police opposed Chandila's bail plea, saying he was a "key conspirator" in the entire IPL spot fixing case and was acting at the behest of a syndicate run by gangster Dawood Ibrahim.
The police had also opposed bail applications of other co-accused, saying "as per the material on record Bhatia was acting as the henchmen fixer for Ashwani."
The Delhi Police on May 16 had arrested three players from Rajasthan Royals -- S Sreesanth, Chandila and Ankeet Chavan -- on charges of spot-fixing.
The Delhi Police had slapped provisions of MCOCA on Sreesanth, Chandila, Chavan and 25 others in the case, alleging that they were acting under the command of Dawood and Chhota Shakeel.
The court had granted bail to Sreesanth, Chavan and 19 others due to lack of evidence to be charged under MCOCA.
Photograph: BCCI