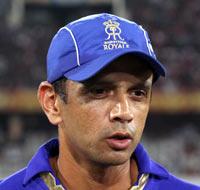 Rajasthan Royals captain Rahul Dravid said that tough situations is a test of character for top teams and he expects that his boys would also overcome the current crisis that has rocked cricket world after S Sreesanth and two other players arrests for alleged role in spot-fixing.
"I think adversities helps us to galvanize a side. We have come close together as a group and hope to perform well," the 40-year-old former India captain said during the toss of his team's IPL match against Hyderabad Sunrisers.
Asked about how tough it has been, he made no bones in accepting the fact.
"It has been really tough not only for me but for everyone who follows the game of cricket."
A special cell of the Delhi police arrested India pacer Sreesanth and his Rajasthan Royals teammates Chandila and Chavan for allegedly indulging in spot-fixing in at least three IPL matches as per arrangements with bookies who have underworld connections abroad.
- Dravid, Shilpa to be questioned by Delhi police
The players, who have been suspended by the BCCI, are charged under section 420 (cheating) and 120-B (criminal conspiracy) of the IPC and being interrogated in Delhi.
Photograph: BCCI